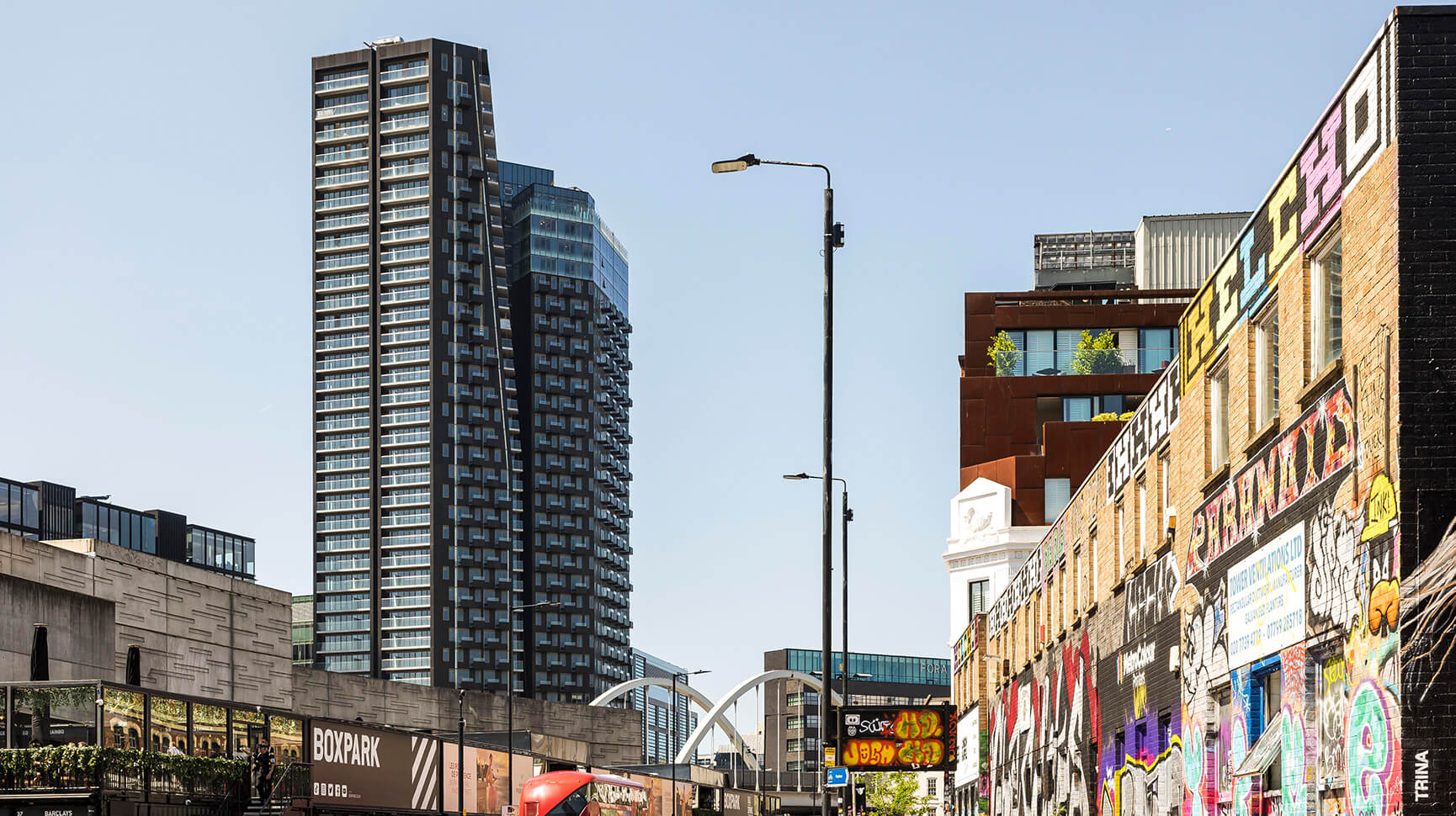 ACT 1: 2016 Pre-Referendum
Picture the scene: the heavyweights of the London property scene are seated around a cramped boardroom table discussing the prospect of bringing to life a world heritage development site in the heart of the City of London. Some call it Shoreditch, others The City.
The Site: The Stage Shoreditch.
The Offering: a deceptively large vacant development site with planning for a residential tower to comprise 412 uniquely designed apartments spanning 37 floors, boasting world-class amenities including a luxury gym, a games room, a bowling alley and a golf simulator to name a few.
Within the site, shops, offices, retail and hospitality space alongside a public piazza housing The Museum of Shakespeare, East London's first World Heritage Site showcasing the remains of the Curtain Theatre dating back to 1577 will be found.
The Players: 
Galliard Homes, London's leading private residential developer.
Cain International, leading global real estate investors.
McCourt Global, an international leader in real estate, hospitality, and finance with a 130-year legacy.
The Estate Office Shoreditch, a well-known London family office synonymous with the area.
Vanke, one of the leading residential developers in mainland China.
C J O'Shea, one of the largest construction and property development companies in London and the South East.
In joint venture, the partners have developed 2.3 acres of Prime land in the popular locality of Shoreditch, East London into an all-new destination to live, work and play.
ACT 7: 
From Brexit to covid, supply chain issues to inflation, construction sites such as The Stage have experienced various hurdles throughout its build phase. Therefore, I've skipped Acts 2-6 as I'm sure you're fed up with hearing about it.
So, fast forward seven years and here we are. 
Residents are moving into the completed development, enjoying trendy shopping in the local area, eating and drinking in top-class neighbouring restaurants and bars and looking forward to enjoying many Shakespearean experiences right on their doorstep.
The rebirth of The Stage, a world-class destination, is a wonderful and exciting sight to behold. 
The apartments are ready, the amenities are in a class of their own, and the site overall is appealing to every demographic. We are thrilled to finally start welcoming our first residents through the door and wish them many happy years at The Stage.
We invite you to come and see for yourselves!
Get in touch with our sales team: 020 3621 0525 or find your home at The Stage here.
---
About the author
Galliard Homes' Sales Director, David Galman, joined the company in 1992 and has over 35 years of property experience.