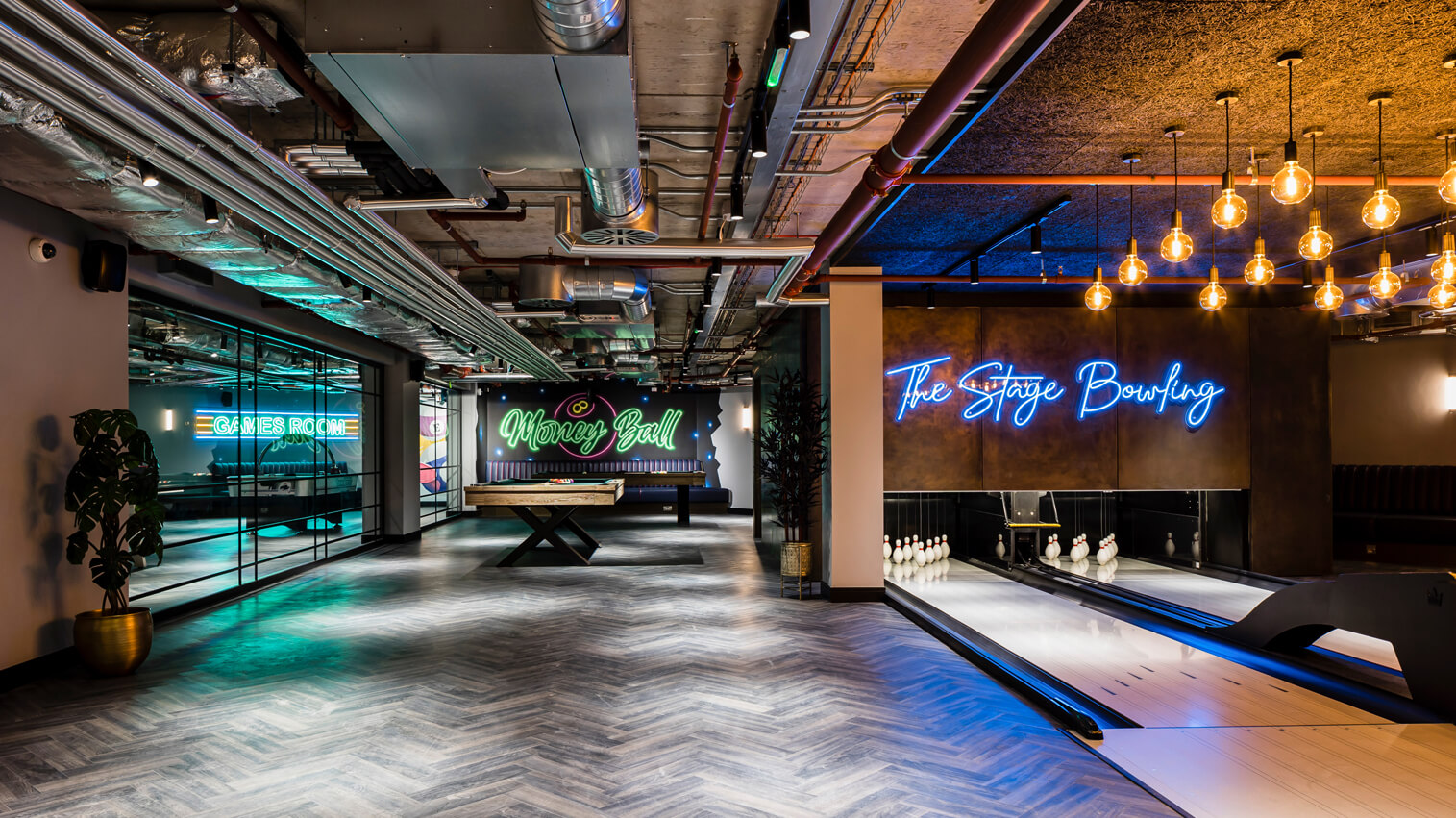 Invite your friends and put your duckpin bowling skills to the test. The bowling balls and pins may be smaller and the lanes shorter, but trust us when we say the action is even more intense!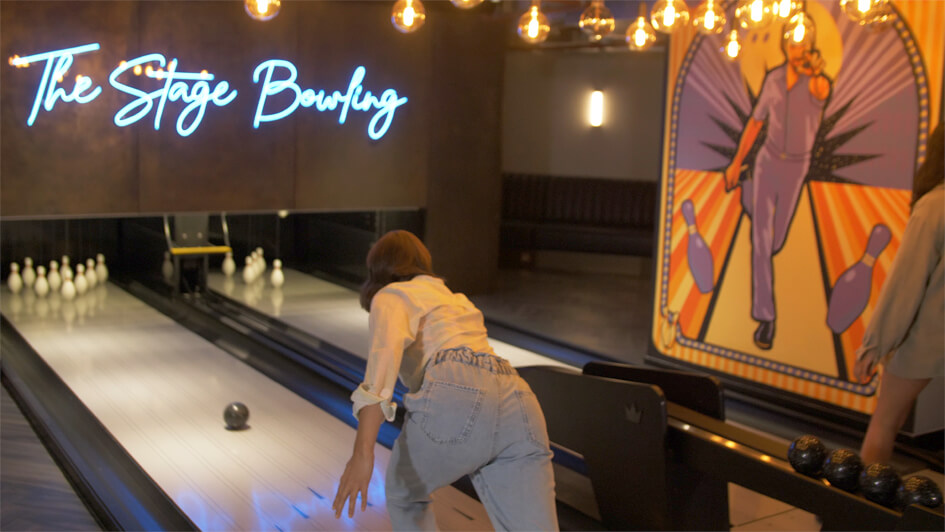 Prepare to be bowled over
Upon entering The Stage Bowling, the Shoreditch-themed décor is sure to awe.
Think neon signs, oversized hanging-bulb lighting and bespoke graffiti artwork by Global Street-Art, all working together to enhance this retro basement's 'striking' atmosphere.
Comfy seating, consisting of blue leather upholstered benches with red piping, gives the area a relaxed 'lounge' feel. 
There is a stylish bar to the side of the bowling lanes, with bar stools offering a great space to take a break from the action. Behind the bar is plentiful refrigerator space to stock any food and beverages you wish to bring.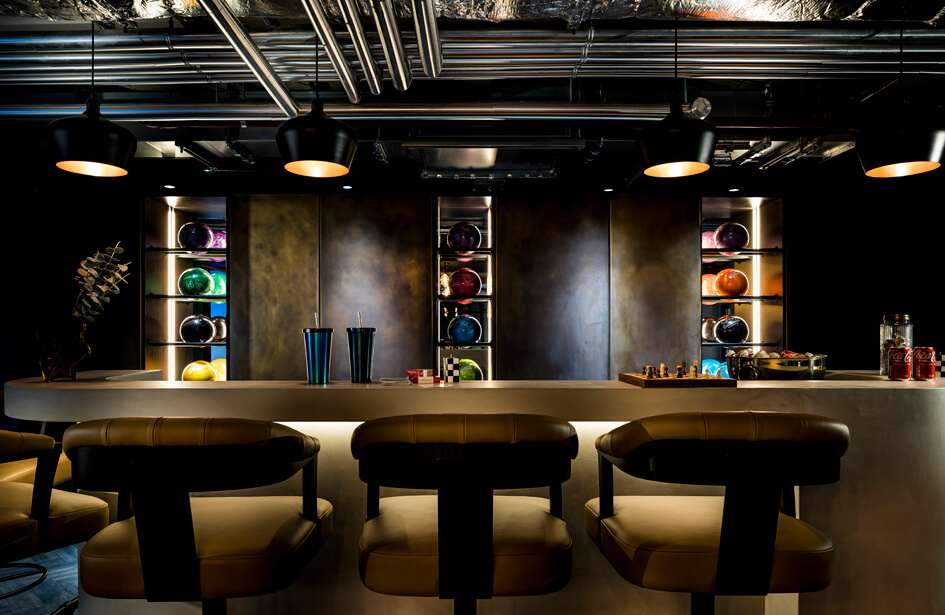 A games night to remember
To start the game, simply get your team together and add your player names via the pedestal-mounted keypad. Two lanes allow teams to take each other on with the automatic computer system making the scoring a breeze.
The Stage Bowling is an all-season space for everyone to enjoy. Rain or shine, you can bowl anytime during the year; all ages are welcome.
If bowling is not your thing, fear not; The Stage Bowling also has a pool table, dance machine and old-school arcade games to keep you and your guests entertained all day and night. There is also a dedicated Games Room adjoining the space.
And the best part about it is that you can take a lift straight back to your apartment when you're ready to call it a day!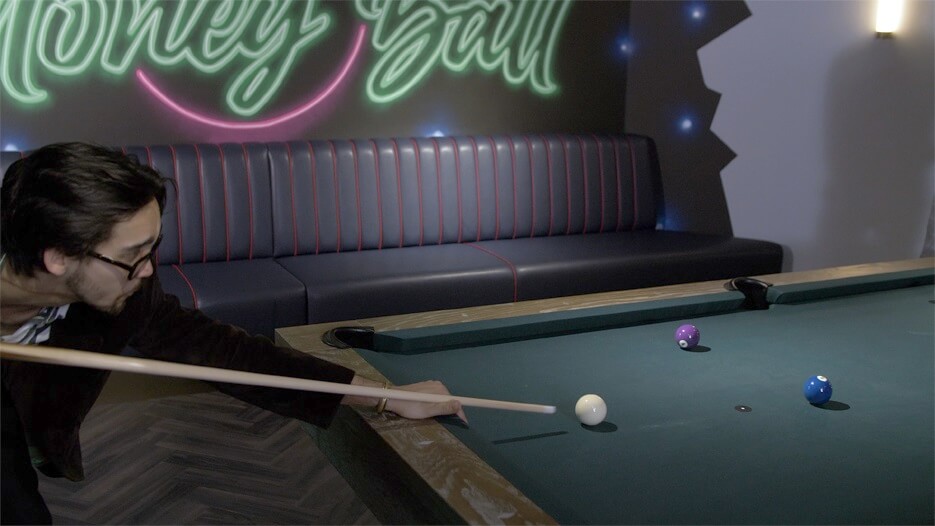 Bring the party home
Did you know you can hire the space for parties and special occasions?
For private events, the residential management team at Rhodium cares for your every need, from organising a DJ to supplying bartenders and entrance security.
The Stage Bowling is the place to socialise and be seen! Share your pictures of The Stage Bowling using #TheStageShoreditch