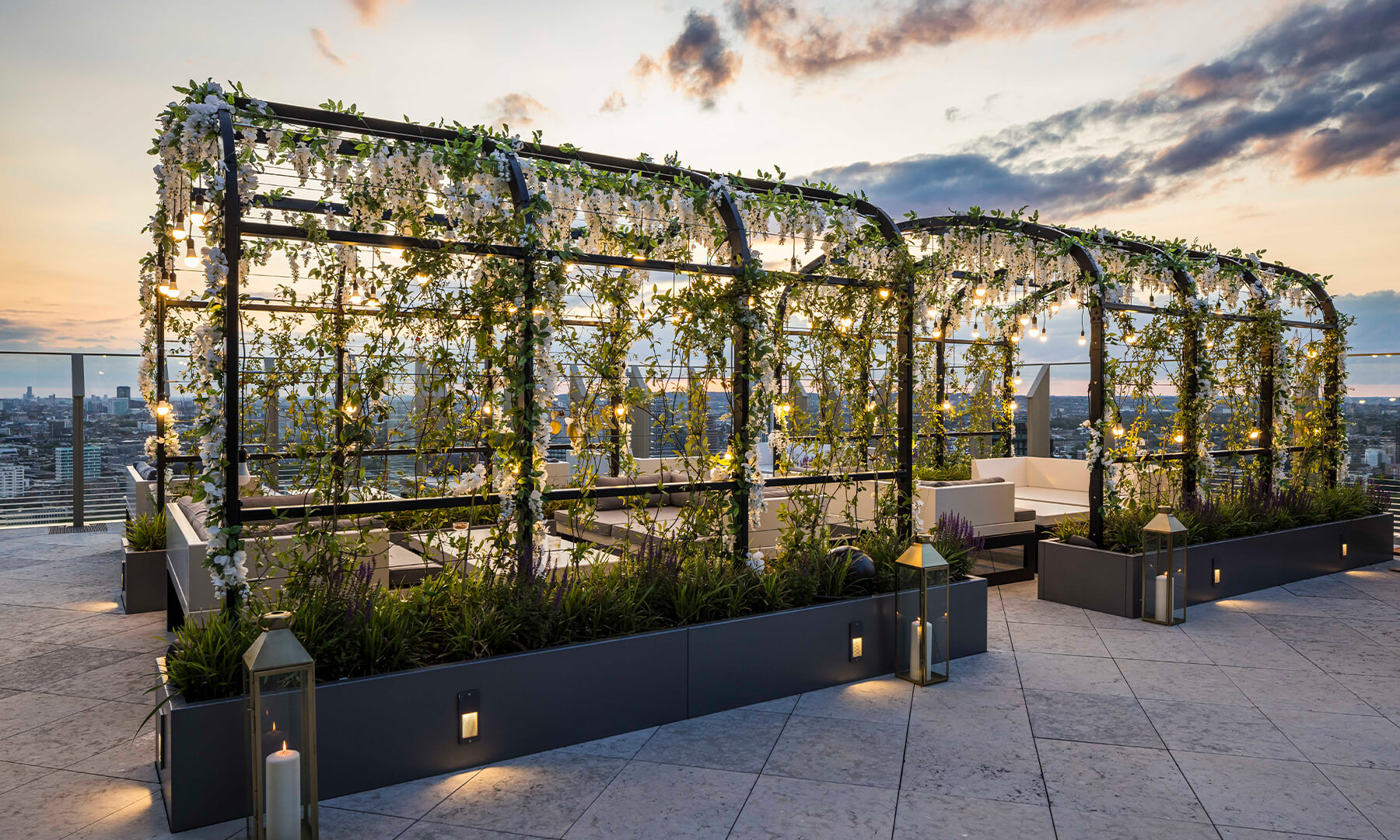 East London's residential scene is transforming at a rate of knots, with areas such as Shoreditch emerging in what is being considered a 'new wave of Prime property', as the investment focus moves away from traditional Central London locations to the enterprising hotspots of the future. Nestled on Curtain Road, Galliard's mammoth mixed-use development, The Stage, is an archetype of what's set to be a brand new era for this part of the capital.
The Stage is a joint venture undertaken by Galliard Homes in association with Cain Hoy, McCourt, Vanke and The Estate Office Shoreditch, and will comprise 412 luxurious apartments surrounded by more than 400,000 sq. ft. of commercial and retail space, rooftop public landscaped gardens, and a central piazza housing a heritage centre dedicated to Shakespeare's Curtain Theatre, which stood on the site more than 400 years ago.
Designed to create a new cultural hub and a five-star residential landmark in this increasingly popular City Fringe destination, a stake in The Stage is sure to reap substantial rewards. Here are 10 reasons to invest at this world-class destination, coming soon to Shoreditch:
1. The 'Crossrail Effect' Comes to Shoreditch
The Stage will be just five minutes' walk from Liverpool Street station—the City's principal railway terminus—which has already commenced running Crossrail services. Considered Britain's 'most ambitious transport project', homes within a mile's radius of an Elizabeth line station have risen by a whopping 66% since construction first started in 2009, according to Hamptons International.
2. An Unmissable Offer for Buy-to-Let Investors
Galliard Homes is offering up to 3% Stamp Duty allowance to cover the surcharge payable on second properties for Buy-to-Let investors, which will be deducted from the final completion price.
3. Plus a Selection of Luxury Five-Star Facilities
Residents of The Stage will enjoy hotel-style lifestyle facilities including a 24-hour concierge, an on-site gymnasium, a games lounge and private screening room, plus access to the 32nd-level sky lounge terrace.
4. A Historical Gem and Luxury Residential Destination in One
The Stage will be the first development of its kind with a heritage centre dedicated to Shakespeare's original Shoreditch playhouse, The Curtain Theatre, which dates back to the late 16th century, and is said to be where 'Henry V' premiered. Archaeologists from the Museum of London Archaeology first discovered the remains of the theatre underground in 2012, with a detailed excavation taking place in 2016 prior to The Stage's construction. Once the development is completed in 2021, the preserved remains will sit pride of place in The Stage's central piazza. For investors and homeowners alike, this is a unique opportunity to claim a piece of East London history as their own.
5. Shoreditch Heralded for Huge Capital Growth Prospects
East London's property climate has seen drastic changes in recent years, with Shoreditch emerging as the shining star for both inward and outward investment, thanks to Crossrail and a host of regeneration projects transforming the area's commercial and residential scene. According to Zoopla's Zed-Index, the average property in Shoreditch is now valued at £729,563 (2019)—an increase of 73.75% over the last decade—demonstrating lucrative long-term capital growth and Shoreditch's emergence as a key player in the Prime property market.
6. The Stage Sets a New Precedence for Luxury Living
The A-list interior designer Nicola Fontanella's forward-thinking designs demonstrate a fusion of Shoreditch's quirky personality with the opulence one might see in a West End development. Living at The Stage will certainly prove to be an incredibly indulgent experience, whether it's a full-time residence or pied-à-terre.
7. Situated on the Cusp of a Global Technology Hub
The Stage will be within a 10 minute walk of Old Street Roundabout—also known as 'Silicon Roundabout'—which is home to the world's third-largest technology start-up cluster. Whilst Shoreditch is renowned as an edgy enclave, traditionally frequented by talented creatives and hipsters, the area is now welcoming a new type of resident – the high-flying City executive. Huge players within the business and technology world are also choosing Shoreditch as their new base; a prime example being Amazon, whose headquarters opened in 2017.
8. Presenting East London's New Eclectic Shopping Hub
The Stage's retail quarters will house a mixture of boutique and household names for residents and tourists to peruse, including London's edgiest contemporary art gallery, Imitate Modern, which moved into its first gallery space in East London at The Stage earlier this month.
9. Premier Homes with Bespoke Finishes
The apartments and penthouses at The Stage will host a range of luxurious interiors and appliances worthy of Galliard Homes' 'Platinum Collection' status. From designer kitchens to bespoke entertainment units with an inclusive 40-50" LED smart TV, residents will have all the contemporary essentials readily available to enjoy the very best of five-star London living.
10. Fully-furnished Free of Charge
Galliard Homes is offering a free furniture pack with every apartment at The Stage, couple this with the 3% Stamp Duty allowance for Buy-to-Let purchasers and this may prove to be an investment worth making.