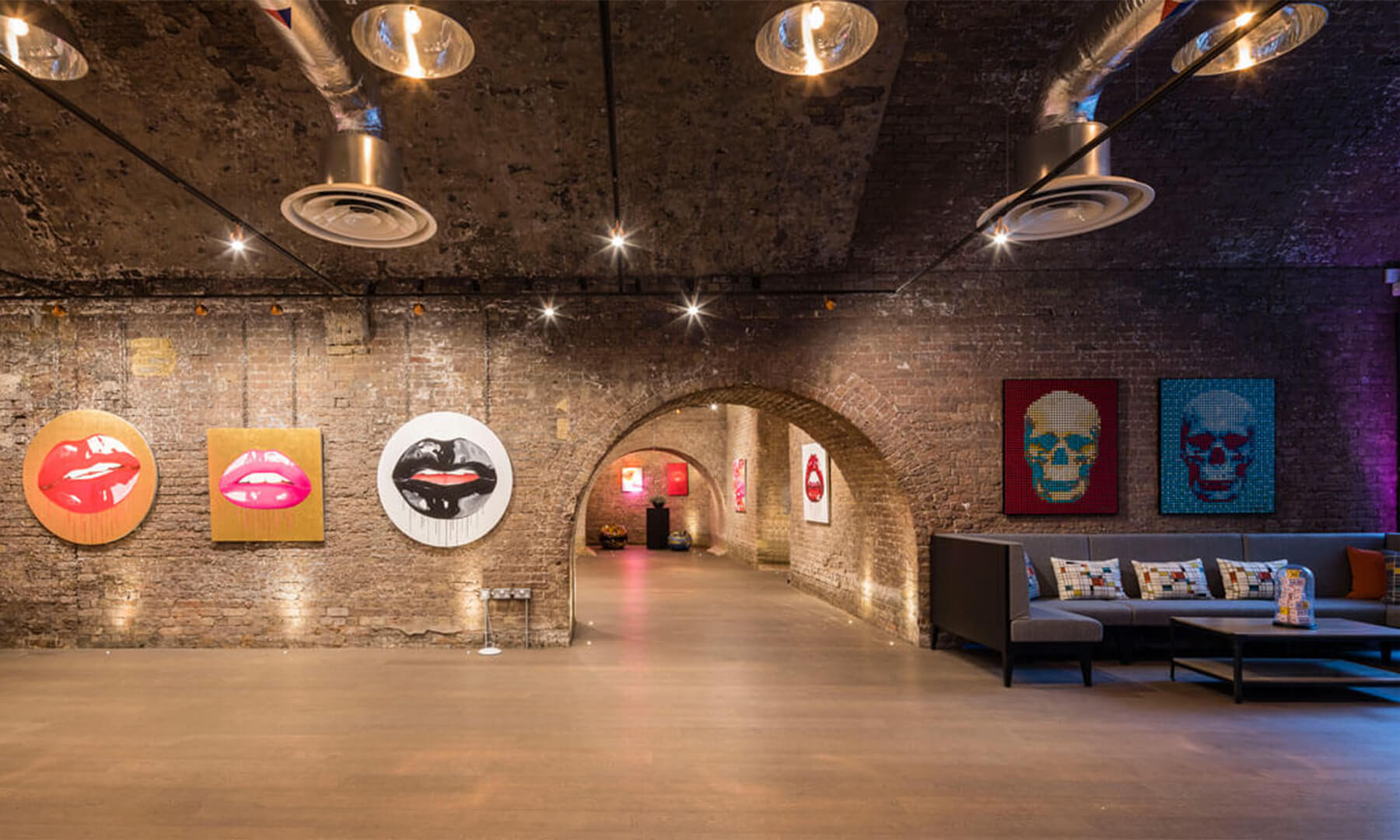 Galliard Homes is proud to announce the collaboration between Imitate Modern – London's edgiest, contemporary art gallery – and The Stage EC2, the new, mixed-use development coming soon to Shoreditch.
The Stage EC2: Where Past, Present and Future Intersect
Leading the way for contemporary living in the heart of East London's most prized cultural pocket, The Stage will be the only London development to be considered as equally innovative and forward-thinking as it will be historically significant. In 2011, archaeologists from the Museum of London Archaeology (MOLA) discovered the remains of Shakespeare's original Shoreditch playhouse, The Curtain Theatre; the whereabouts of which had remained unknown for more than four centuries. Now, following a thorough excavation, this treasured landmark is set to be the muse and centrepiece of East London's most anticipated development, The Stage EC2.
To celebrate the site's remarkable history, The Stage will incorporate a brand new heritage centre dedicated to the discoveries of the Tudor site, which will sit at the heart of the development; in addition to a sunken amphitheatre and pavilion, where The Stage can continue to be a centre of public performance as it had been all those years ago.
Along with what's set to become Hackney's first scheduled ancient monument, The Stage will also feature more than 400,000 sq. ft. of commercial offices, as well as retail space – within converted Victorian rail viaducts – and rooftop landscaped gardens. If that wasn't enough, more than 400 luxury apartments will call The Stage home; anchoring this development's status as a first-class destination to live, work and play.
The Stage EC2: The Home of Pioneering Art and Design
With internationally renowned architects Perkins+Will responsible for The Stage's sensational, maverick composition – and A-list designer Nicola Fontanella of Argent Design accountable for the development's edgy, eccentric yet superlatively stylish interiors – it was only right that London's leading contemporary art gallery joined us on this elaborate new venture. After all, where better to celebrate the world's most evocative artwork than on the grounds where some of the greatest hallmarks of British literature were first uttered, and where Shakespeare himself once performed?
A Warm Welcome to a World-Class Art Gallery
The Stage EC2 is proud to introduce Imitate Modern – Mayfair's established urban art and photography gallery – set to take up a new residency at the Shoreditch development from October 2017.
Imitate Modern was established back in 2011, moving to Mayfair's fashionable enclave in Shepherd Market in 2016, and has since been a springboard for a long line-up of emerging artists, as well as turning the spotlight to cherished household names. What unifies artists at Imitate Modern is: 'the skill and drive to produce innovative, impeccable and sometimes controversial works of art, cementing their achievements in the next generation of industry leaders.'
Driven by experienced and devoted collectors of contemporary art for more than 20 years, Imitate Modern delivers exhibitions all-year-round that aim to 'inspire, excite and enthral'. Exhibitions range from internationally acclaimed solo shows to debuts of talented new artists, but Imitate Modern's goal remains ever the same: 'to help their artists build interesting and enriching collections, and most of all, enjoy art in the most engaging way possible.'
From Vogue photographer Tony McGee to legendary street artist Stik, Imitate Modern has hosted some of the most thought-provoking contemporary art works. The gallery's most recent exhibition showcased photographs of David Bowie taken back in the 1980s and early 1990s, amply named 'David Bowie: "Unseen"'. Once 'Imitate Modern at The Stage EC2' opens in late 2017, art devotees and pop culture fanatics are sure to have their minds boggled and senses tested by the perplexing, ground-breaking works of art displayed at the new gallery. 
Can't wait until the opening? Head over to 19 Shepherd Market, Mayfair, London W1J 7PJ to see Imitate Modern's West End gallery.