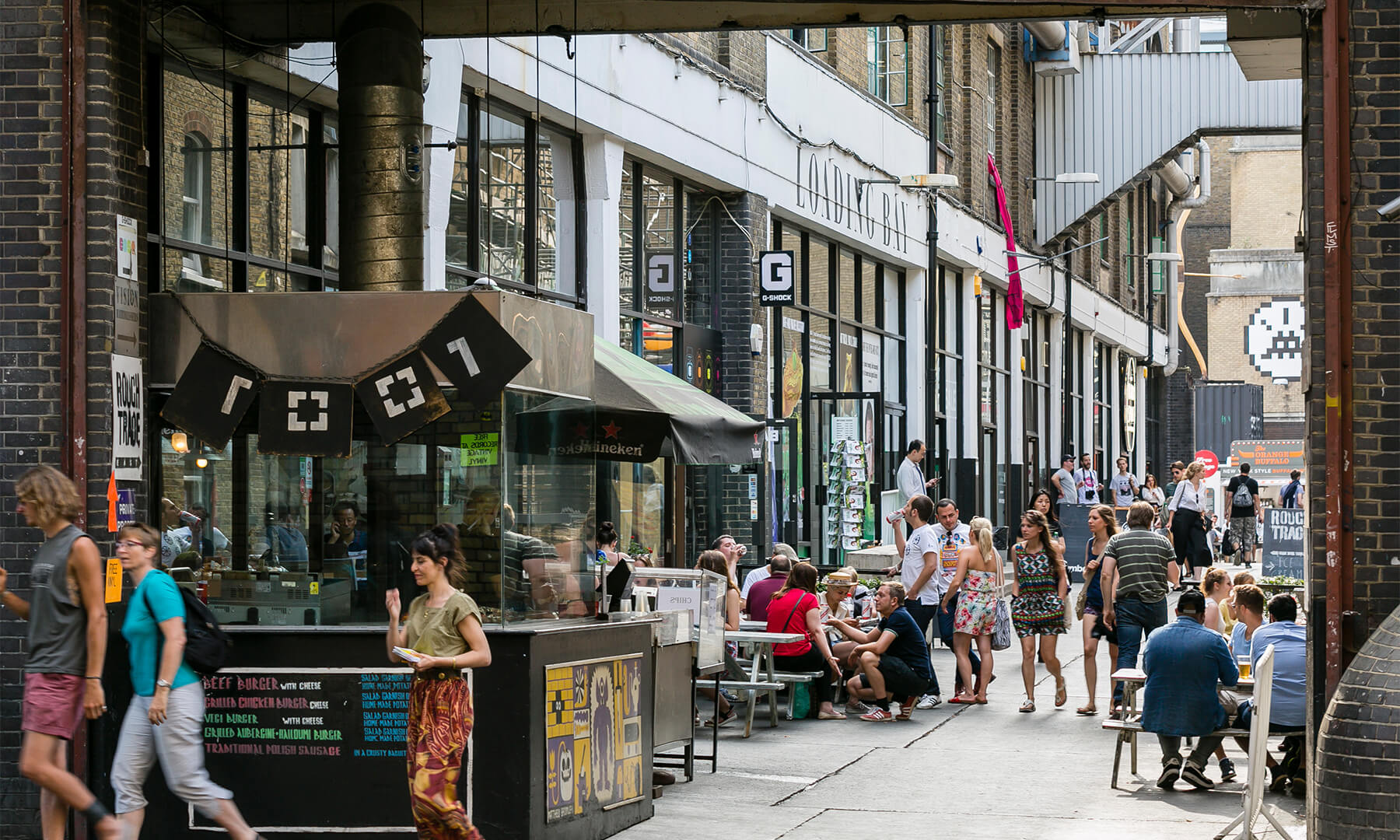 Located in the London Borough of Hackney, to the north of the City of London, Shoreditch is the epitome of urban cool; packed with trendy cocktail bars, gastro eateries, cultural delights, and quirky markets.
Shoreditch offers an urban shabby-chic appeal, with its renovated warehouses, independent shops, artisan coffee houses, and reclaimed vintage stores; fostering a flurry of hipster activity. Although intrinsically modern, Shoreditch has a rich cultural heritage and still maintains an active association with the arts. All in all, Shoreditch is an established prime area to reside in, which continues to benefit from a wealth of popularity and regeneration.
Property Available
Set to become an iconic, world-class destination, Galliard Homes' sensational development, The Stage, will offer an impressive mixed-use development in the centre of Shoreditch. Located on Curtain Road and built upon the recently discovered remains of Shakespeare's Curtain Theatre, this development will incorporate the restored heritage into a public centre, enriched by exposed, original architecture and an exhibition and performance space. Alongside this will be a striking 37-storey residential tower, office space and retail and leisure schemes that will provide a prestigious and elegant setting for investors, occupiers and visitors alike.
Take a look at all of Galliard Homes' flats for sale in Shoreditch.
Now sold out, The Fusion was a prime development in the buzzing hub of Shoreditch. Consisting of 26 one, two, and three bedroom apartments, many of the properties came with outstanding city views – for true luxury. Exclusive features include provisions for surround-sound technology, Smeg integrated kitchen appliances, and underfloor bathroom warming facilities.
History
The name 'Shoreditch' is likely to refer to the headwaters of the river Walbrook, which originated in the Curtain Road area. Other, perhaps less steadfast theories suggest that the Shoreditch namesake is derived from Jane Shore; the mistress of King Edward IV, who was buried in a ditch in the area; an image which is commemorated throughout the area in various forms of art. Once formerly part of the Middlesex County, Shoreditch now resides in the London Borough of Hackney, in Inner North London. Its high street – now part of the A10 – was once a major coaching route.
Shoreditch has a long history of culture, and could well be heralded as the birthplace of traditional English theatre, as it was the setting for the first ever English playhouse, simply known as 'The Theatre', which was established in 1576. A year later the much-feted 'Curtain Theatre' opened further along the road, and was the first site to showcase Shakespeare's world-famous plays.
Shoreditch has indeed had a colourful past. Following its cultural hey-day, it was established as the principal area for textile and furniture manufacturing in the early 19th century, but by the end became synonymous with disrepute and debauchery.
Today Shoreditch has regained its cultural and commercial status, and is once again an area that rivals the West End in terms of its galleries, bars, restaurants, education, and property. Now associated with creative and web-based industries, following the 'dot-com' boom, it is also a highly desirable place of work, and is home to current digital companies that include Last.fm, Dopplr and Songkick, all of which convene around Old Street and the famed 'silicon roundabout'.
For further information about the technology industry in the area, read The Regeneration of Silicon Roundabout.
Shopping
Brick Lane Market showcases retro goods, rare gems, and random bric-a-brac; offering a charming carboot vibe, with ramshackle stools and picnic blankets set-up here and there. Characterised by zany old London charm, with the promise of a bargain around every corner, this is the place to be for fresh, organic produce, household goods, and vivacious atmosphere.
Alternatively, the Brick Lane Sunday Upmarket features vintage goods, masses of old vinyl, and unique designs throughout. Global food is also prominent, with everything from Ethiopian to Spanish delicacies to choose from.
Located just five minutes' walk from Liverpool Street Station, Old Spitalfields Market is the perfect shopping destination and one of the finest surviving Victorian Market Halls. Open every day of the week, this impressive array of shops and stalls with fashion, antiques, art and food, attracts shoppers from all over the capital.
A popular independent shopping venue in Shoreditch, Aida provides stylish indie labels throughout. Building on the concept of meticulous-mess, this shopping outlet presents its exclusive clothing in a unique way; with clothing bursting forth from antique furniture, distressed suitcases, and other vintage paraphernalia. Marketed as a neighbourhood haunt, the premises also houses a quaint café and vintage beauty salon.
A selection of re-fitted shipping containers creatively assembled underneath Shoreditch High Street Overground station, the pop-up BOXPARK mall consists of current retailers and eateries. Founded in 2011, BOXPARK showcases an abundance of brands, from clothing label Hype with its striking bold clothing and accessories, to food and drink outlets such as Pie Minister, with its new-wave, yet rustic pie recipes.
Take a closer look at Shoreditch and its long history with fashion.
Food & Drink
Due to the current circumstances, some of the sites mentioned below may be temporarily closed or have restricted opening hours.
For those with a somewhat refined palette, Lyle's provide gastronomic delights, cooked up by the much-acclaimed chef James Lowe, the undisputed king of decidedly British cuisine in Shoreditch. Diners will taste morsels of mouth-watering delights; with seven small courses to work through – although those with a squeamish sensibility may find this eatery a tad overbearing, as blood-cake, fatty-edged mutton, and cod tongues feature on the menu.  
A grotto-like underground bar, Hawksmoor serves up lip-smacking steak, gourmet burgers, and kooky cocktails in the Spitalfields area. Those who wish to make a night of their meal may appreciate the 'bring a bottle' option on Monday evenings.
The Queen of Hoxton is set over two fun floors. DJs play cutting-edge tunes on the weekends, whilst a mixture of events such as fringe theatre plays and film clubs provide weekday highlights. (See below to find out more about the Queen of Hoxton's unique rooftop film club.)
Buzzing on weeknights, after office hours, The Fox is a favourite with city professionals and locals. The contemporary interiors have been carefully selected to provide a chic and ambient setting for socialising. Customary pub fare and snacks are on offer, along with a specialist wine collection for the avid connoisseur.
As much of a community hangout as it is a pub, The Book Club hosts a wide selection of events, setting it apart from all other venues in the area. There is a catalogue of activities on offer, from live bands, DJs, lunchtime discos, film dance-a-longs, alternative dating nights and ping-pong tournaments to informative talks, life drawing sessions and classic video game evenings.
Recently rejuvenated, the Old Spitalfields Market offers a host of chain restaurants, including the Real Greek, Las Iguanas, and Giraffe, as well as a selection of mobile, exotic eateries.
Tourist Attractions
Miniature Shetland Ponies, North Ronaldsay Sheep and Kune Kune Pigs dwell in Spitalfields City Farm. A hit with families, this homestead houses a litany of farm animals, an aviary of exotic birds – including zebra finches and cockatiels – and a children's play area. Adjacent to the site is Spitalfields Community Garden, which displays a range of freshly grown vegetable patches, and is largely run by farm volunteers. Adding a quirky and somewhat eccentric element into the mix, the annual Spitalfields City Farm Goat race takes place on-site every spring and draws in crowds from all around. This attraction is only ten minutes' walk from Liverpool Street station, establishing it as a fantastic family outing.
Looking for even more places to visit in Shoreditch? Read our detailed Things to do in Shoreditch guide.
Education
Just under a mile away from Shoreditch, City University London provides a range of courses in the areas of business, arts, social, and health sciences. Dating back to 1852, City University was in the top 5% of world universities according to Times Higher Education World University Rankings 2015. 
Located in Falkirk Street, on the doorstep of 'Tech City' or 'Silicon Roundabout', New City College is made up of over nine thousand students (per year), and offers a wide selection of both curriculum and vocational courses. The college incorporates London Technical Fashion Academy, an Athletics Academy, and offers highly sought-after 'Tech City' apprenticeships.
To find out more about universities in London, take a look at Top Universities in London.
Culture
A visually sumptuous inundation of vivid colours; the weekly Columbia Road Flower Market displays herbs, bulbs, shrubs and bedding plants. Independent galleries and pottery shops line the entire stretch of the street during market time, providing arty delights.
Rooftop Film Club – Queen of Hoxton
With snug director chairs, blankets, and wireless headphones, this cinema is a quaint rooftop haven, away from the hubbub of the bustling city. The movies on offer include a combination of '80s favourites, recent Oscar nominations/wins, and Hollywood classics. In addition to the trendy outdoor cinema, there's also roof bar, BBQ, and even a Wigwam set up during the winter season.
Find out more about Culture in Shoreditch.
Local Authority
Getting There
Underground/Rail
Four primary stations will deliver visitors to the principal Shoreditch area, including Shoreditch High Street and Hoxton rail stations, as well as Old Street and Angel underground stations; both of which are located on the Northern Line.
Road
Running from the north to the south, the A10 passes through Hoxton and Shoreditch High Street, whilst the A1 delivers those from North West London to Angel. A choice of daily pay-and-display spaces are available around the area, including Euro Parks car park on Shoreditch High Street, for fairly priced hourly parking.
Crossrail
The arrival of Crossrail to nearby Liverpool Street station will also impact on property prices in Shoreditch and will enable more workers to commute to and from the City and East London.
For further information about property availability at The Stage, view our development page.