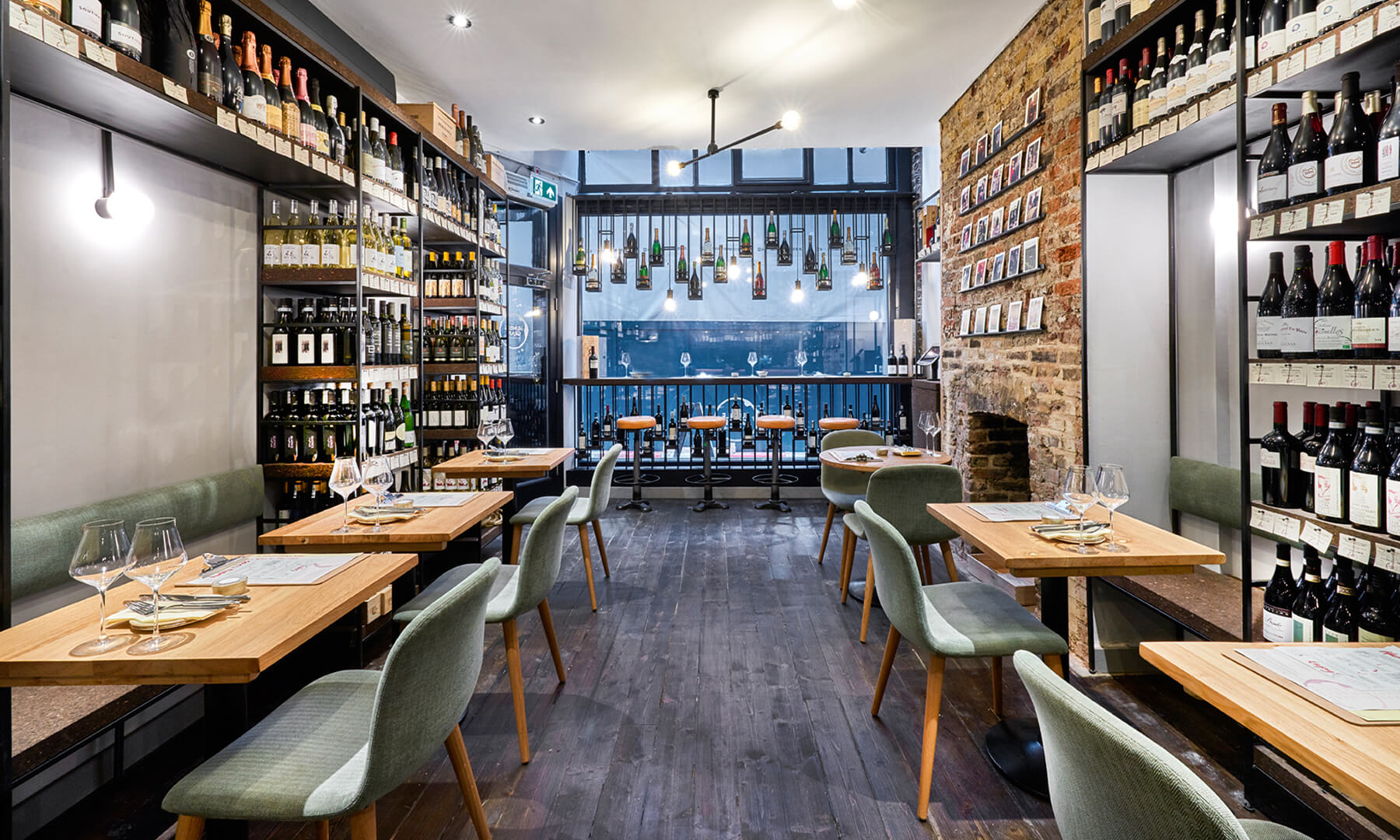 We recently featured Shoreditch's most Romantic Restaurants. We'd add Humble Grape's new offering on Liverpool Street's Devonshire Row to the list. As well as an ideal date night location, it also provides a casual hangout for after-work drinks or somewhere to share a bottle of wine (or several) with friends.
It is the fourth offering from Humble Grape with other sites already established in Battersea, Islington and just off Fleet Street. Their mission remains the same: 'to make wine socially inclusive and approachable by everyone', but with four sites under their belt including a shop, wine tasting arena, monthly events and a wine club - are they still able to be quite so humble?
I should start by saying that I am not a person of cultivated wine knowledge, although I did bring along my husband who is - or at least has the pretense of being - slightly more in the know. As somewhere that is both a wine shop, wine bar and restaurant, serving over 30 wines by the glass and 400 by the bottle, I was concerned I would be out of my depth. However, the restaurant's atmosphere is immediately relaxed and friendly. I was delighted to find that our Finnish sommelier Juuso was passionate rather than pretentious, quite simply excited to share his knowledge with us and to treat us to some delicious and unusual wines.
Like the other Humble Grape locations, they seek out the interesting, the unknown and the intriguing in the world of handcrafted wines. As a result, the majority of their wines are biodynamic, organic or sustainably produced, crafted with attention-to-detail and directly imported by Humble Grape themselves. They can be bought by the glass or bottle, which you can open and enjoy alongside your meal or take away at the end - as a crate if necessary.
The restaurant is set over two cosy floors where the decor revolves around the wine itself which lines the walls and zig-zags in feature shelving across the front window. The 'winemaker wall' allows you to peruse the stories of the people and places behind many of their selections. Combined with wood floors, exposed brick walls, earthy tones and softly glowing lighting, it creates an ambience that is part continental taverna and part sleek wine bar.
We were taken downstairs to a candlelit table where Juuso took us through the wine flight of four reds and four whites. I enjoyed his animated descriptions where the 'minerality bounces' and the 'fruit explodes in the mouth', and stories behind each winery - giving us just enough to lend an interesting depth to each glass, while allowing us the space to form our own flavour opinions.
Our favourite whites were the Noble Savage Chenin Blanc from South Africa which had all lightness of a summer's day and the crisp sweetness of an apple. While the Cypress Pinot Gris from a small winery in New Zealand's Hawke's Bay was a delight. It supposedly has notes of pebbles, fresh kiwi and citrus, but we just loved its smooth finish and luxurious flavours that seemed to expand with every sip.       
From the reds the Blackwater Noir from Swartland was rich and smokey, with a hint of spice.  It was made with the Syrah grape (the same variety at Shiraz but dryer and smoother) which, as Jusso explained enthusiastically, was treated with 'whole bunch' fermentation - where the entire grape, stem and all, is put into the fermentation vat. A historic and slower method which, if done correctly, creates a softer texture and greater complexity of flavour.
The Dominio de Punctum, Tempranillo Petit Verdot was from Spain's largest wine area, La Mancha. You probably haven't heard of it because the majority of its wines are used for brandy production or medical ethanol, except this diamond-in-the-rough offering. Organic, biodynamic and night harvested for freshness, it was a fanfare of berries with a silky hint of tobacco.
Alongside our wines we selected sharing dishes from their menus (which are, of course, made from recycled crushed grapes). Sourcing from independent and local suppliers, the emphasis is on freshness, with a selection of British, seasonal sharing plates. The flavours were simple and satisfying, allowing the wines to remain centre-stage while adding a complimentary applause.
We ordered tagliatelle smothered in a vivid rocket pesto with parmesan and just the right amount of bite; hearty smoked mackerel on toast with a quail egg; a crunchy cauliflower couscous with a crumbly, creamy barrel aged feta; and 'Martha's meatballs' which were juicy, herby pellets of flavour. We would have thanked Martha for them had we met her.
There are also larger dishes on offer including fresh fish, steaks and meat cuts, as well as a charcuterie and cheese selection. We opted for a milky blue cheese from Wildes in Tottenham which balanced perfectly with the last few sips of white wine.
The dessert menu is creamy and decadent, encouraged to be enjoyed with their extensive list of dessert wines. We double sinned with a Kahlua crème brûlée and a cardamom panna cotta. A dreamy end to a lovely, wine-fuelled evening. We were content and light-headed as we left, thanking the staff for their generous attention.
It is safe to say that The Humble Grape's new addition remains a humble servant to the wines it serves, long may they reign.
---
About the author
Cari Thomas is a freelance writer and London explorer with a background in consumer publishing and copywriting.