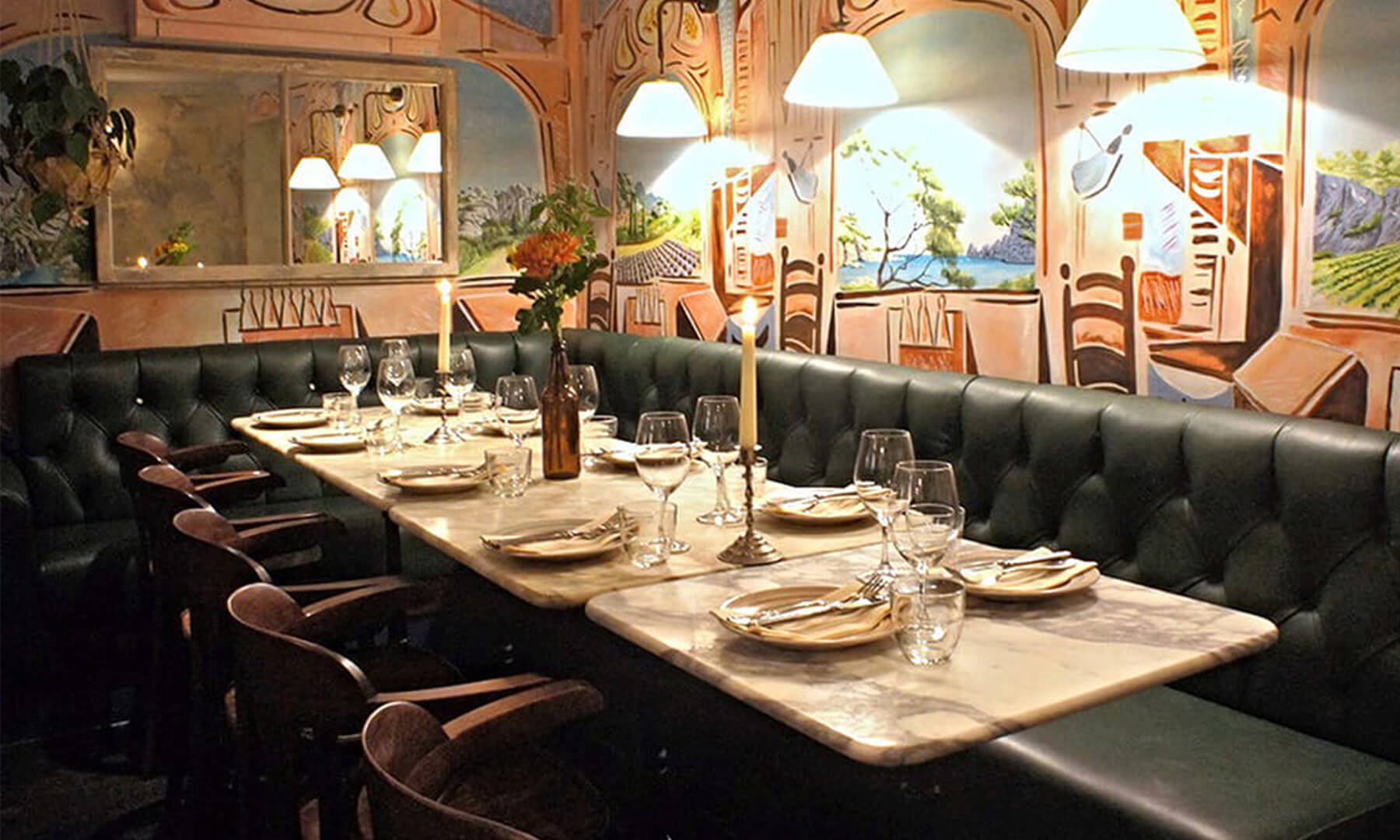 Full of atmospheric eateries and culinary artists, Shoreditch has an incomparable number of romantic restaurants in which to wine and dine.
We've chosen a few of our favourites ranging from the classic, to the impressive, to the weird. In all cases we've ensured that no matter how your date goes, you'll still enjoy the food.
Best for French Romance: Blanchette East
The Parisian-chic Blanchette East on Brick Lane will deliver all the Ooh là là you could need. A Belle Epoque-style nude painting above the marble-topped bar sets the mood. Walk beyond the frosted glass divider to the back area and you'll find a cosseted space that feels as if you've stumbled upon a French cottage in a small rural town. Candle-lit mismatched chairs and shelves lined with books, teapots and trinkets create a cosy backdrop. The cuisine is Provençal and Basque inspired, with a heady North African influence. Try out their Signature Menu which can be enjoyed as romantic sharing dishes, including salt cod brandade and wild mushrooms, cumin roasted beetroots sprinkled with marinated feta and hazelnuts and baked moroccan eggs with dukkah and a harissa flatbread side. After mains, prepare yourself with a cheese course and then you'll be ready to tackle the profiteroles with chocolate and salt caramel sauce.
Best for Showy Romance: SUSHISAMBA
If you're looking for spectacle, spectacle, spectacle then SUSHISAMBA has all three from its skyrise setting to dazzling decor to a tantalising menu. The glass elevator will whoosh you with stomach-flipping urgency to the 38th floor of the Heron Tower. Step inside and be met with a giant, incandescent indoor tree above the bar. The double-height glass walls of the main dining room allow you to take in what you are paying those high prices for: views across the city of London, bumping shoulders with the skyscrapers and looking out as far as Essex. From this height, the sunset going down over the city is London's most romantic show. The food is Japanese meets Brazilian meets Peruvian cuisine and apparently there is an authentic story behind it. However, you don't need to know it to appreciate the dishes including Amazon-inspired mains, Brazilian fish taquitos, Peruvian raw ceviche, and their signature sushi selection, with bold colours and delicate flavours. Pair with a pisco sour or Japanese whiskey cocktail for the full show. There is one catch: reservation lists are long, but it wouldn't be so romantic without all that waiting.
Best for Laidback Romance: Suvlaki
If you're after a place with East London edge but with some heavy-weight culinary skills, then Brick Lane's Suvlaki is a great choice. It deals in Greek street food, uniting the holy trinity in its Suvlaki wraps: crisp bread, charcoaled, tender meat and creamy tzatziki. The decor is somewhere between a rustic 1950s greek taverna and a sultry urban warehouse, but it works. It's fun and buzzy, perfect for a relaxed sharing meal over a bottle of Mediterranean wine. There is an emphasis on responsible sourcing from Greek and British producers, from their meat through to the charcoal they use, taken from sustainably managed, coppiced woodlands. Start off with the olive and citrus wood smoked eel, feta and prawn saganaki and delightful mastelo cheese nibbles and then go for a selection of their suvlaki with anything from Mastelo and vegetables with rose aioli and pomegranate to Mount Olympus Wild Boar. Finish the evening with a mandatory shot of mastiha, brandy liqueur from the island of Chios, and then another one.
Best for Classic Romance: Galvin La Chapelle
From the acclaimed Galvin brothers, the La Chapelle in Spitalfields Market won eight top restaurant awards in its first year and The Best French Restaurant in London Bookatable Awards last year. It is the place to go to impress - set in the architecturally dramatic St Botolph's Hall with high-vaulted ceilings and pillared walls. Sit down on padded, brown leather chairs at tables with crisply ironed, white sheets and enjoy French fusion fine dining at its best. The atmosphere is opulent but not ostentatious. The waiters are known for their soothing demeanour and intuitive service, walking you through the menu and wine selection. Stand-out dishes include the Dorset crab lasagne, wild mushroom risotto with winter truffle and a Bresse pigeon tagine. The wine list is extensive and sophisticated with Champagne aperitifs, wine from their own vineyard in France and plenty of after-dinner dessert wines paired with whichever pudding tempts your French fancy.
Best for Eccentric Romance: Zigfrid Von Underbelly
Hoxton Square's Zigfrid Von Underbelly is a lot of things: a DJ bar, cocktail lounge, restaurant, live music venue, art gallery, underground club… meaning you can start with some cocktails and snacks, enjoy a sit down meal, have some more drinks over live music and end up dancing. The interior makes the word eclectic seem deficient: there's mismatched furniture, art and graffiti, bicycles, rocking horses, surf boards hanging from the ceiling, a faintly psychedelic glow emanating from various neon signs and light fixtures. It's a big space but you can find a cosy, candle-lit corner amidst the chaos. You don't really come here for the food so much as the atmosphere, however the British home-cooked fare is very good. Mains include ox cheek with apple fennel compote, fish and chips, roast vegetable ragout, meat or vegan sharing platters and generously sized pizzas. The gigs span a range of music genres, so check out their events list before you plan your night to make sure it's to your and your date's liking.