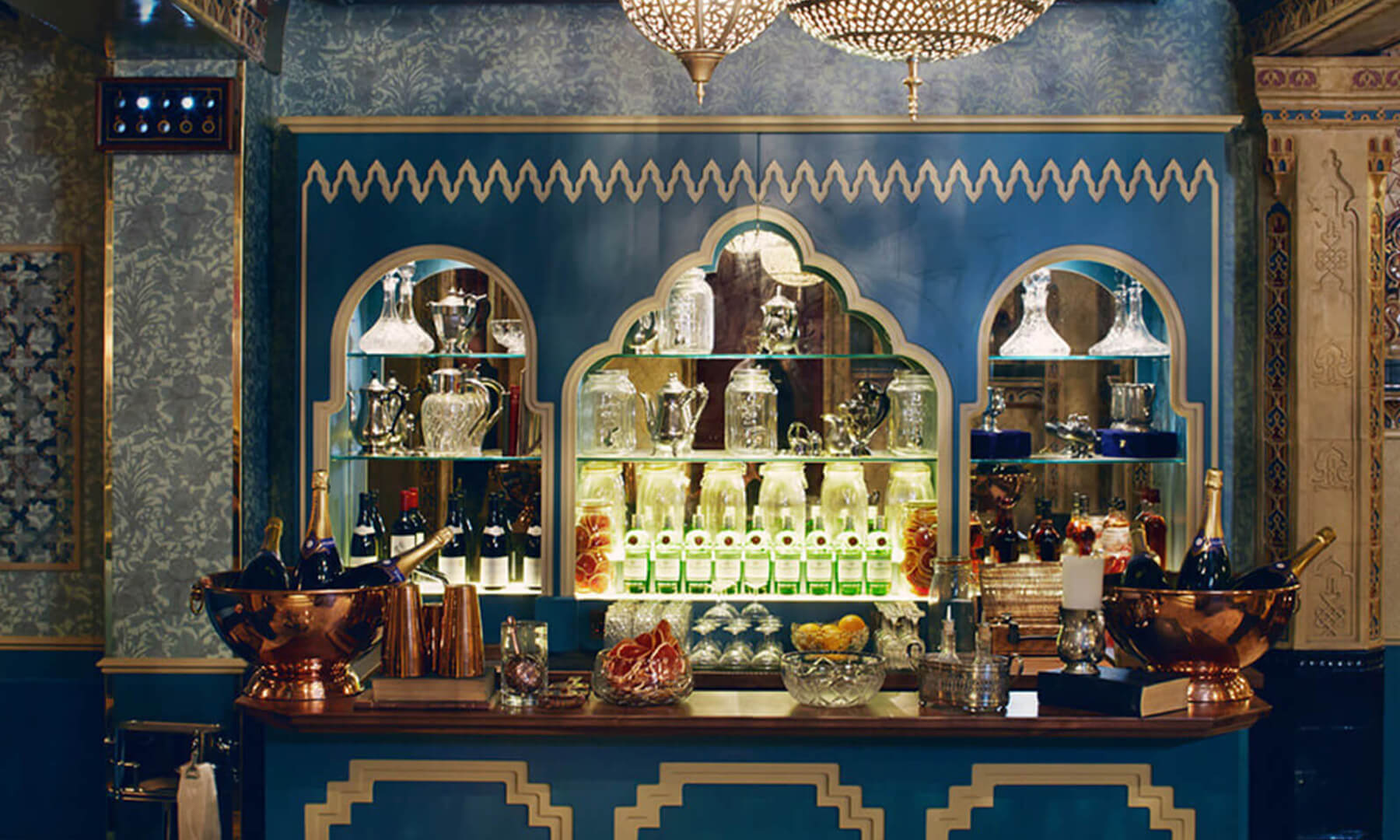 It's Friday night and the streets of The City, on the outskirts of Shoreditch, are dense with after-work socialisers. Yet amidst the crowds and impervious buildings, like a twinkling button on a grey suit, is a tiny, eye-catching Turkish palace: The Victorian Bath House.
Sitting next to Bishopsgate Gardens, its size is dwarfed by surrounding high-rise blocks, but what it lacks in height it makes up for in stop-and-stare opulence. Yet this is only the tip of the iceberg; the true delights of the Grade II listed Victorian Bath House lie beneath in its underground chambers.
Originally a Victorian Turkish-inspired bath house for the gentlemen of The City, it has now been converted into a decadent, appointment-only cocktail bar and event space. Above ground, the out-of-place, temple-like building extends to a Victorian courtyard, for outdoor summer drinks. However, wind down its staircase – lined with original, mosaic tiles – and through heavy red velvet curtains and you reach its glittering interiors.
There has been a bath house of some variety in its location for 200 years but in 1883 the site was bought by the Nevill family who demolished the previous building and in 1895 built the one that still stands today. Miraculously surviving WW2 and later a series of IRA bombings, it remained a bath house until the 1950s and then went through a series of eclectic uses before being taken over in 2015 by events company Camm and Hooper.
Camm and Hooper brought in the esteemed Russell Sage Studios to bring the old building, originally designed by G Harold Elphick, back to life. General Manager, Adam Still explains: "It was very dark and gloomy when we found it and they'd covered up a lot of the old tiling, but we restored the majority of its exquisite original features."
Now it is hard to tell what is old and what's new, the transition is so seamless. Set across a series of alcove style rooms, its layout is the same as the original bath house. The cave-like spaces conjure up the old marble-floored hot rooms and Turkish, gilt-edged interiors. Kaleidoscopic mosaics and fret-cut wallpaper line the walls, ornate colonnades attract attention, mirrors disperse light over glittering Moroccan lamps and crystal decanters, whilst oriental rugs furnish the floor; the overall effect is of coruscant pleasures and titillating extravagance. In a nod to its heritage, the far room, known by its original name 'The Shampoo Room', contains an actual bath used as a champagne cooler.
"We don't have specific evidence of there being a bar and alcohol served back when it began," says Adam, "but in the days of it being a bath house, it wouldn't be surprising that some sort of drink was served in here."
Now, it can be rented out exclusively for events, accommodating up to 150 guests, and is opened up to the general public for appointment-only cocktails on Fridays. Designed by their in-house "Chief Booze Engineer" Mr PJ Hobbs, the cocktail offerings capture the spirit of the site's hedonism perfectly. The menu is dispersed throughout the pages of an old Victorian novel and pairs fine liqueurs with colourful, fruity and eccentric fusions.
Otto advises the sweet and shamelessly pink Plum Negroni with plum infused gin, vermouth and Aperol or a venison and truffle gin infusion with a smoky, savoury finish. There are lots of other whimsical options to delight including a Burnt Toffee Scotch Old Fashioned, a Chamomile Meadow Gin Martini and a Tea on the Titanic Punch.
The appointment-only system ensures the bath house does not become too crowded like the streets above; instead, recline on plush sofas and enjoy several tipples, losing all sense of time in a space that time forgot.