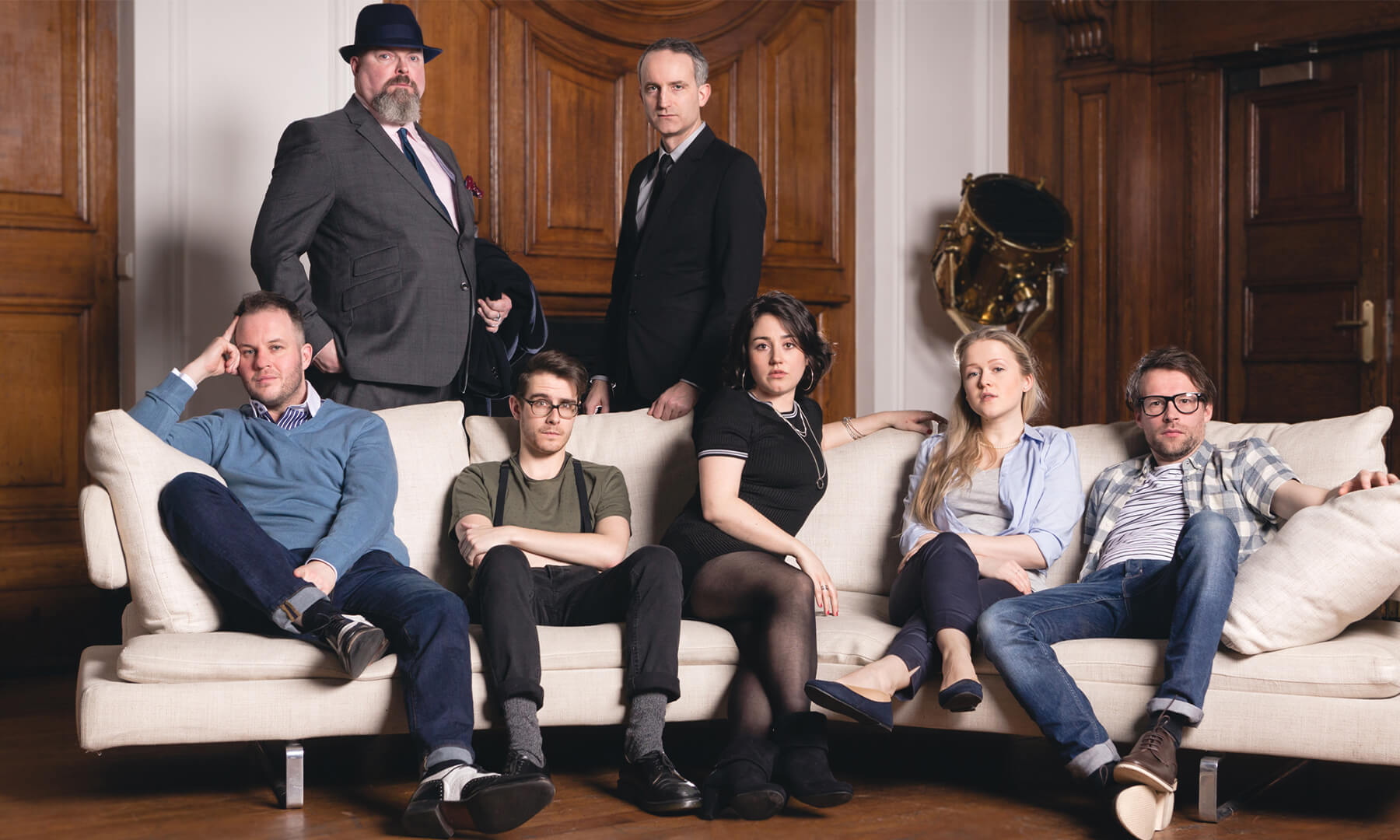 On entering The Town Hall Hotel I could be stepping back in time to a 1920s gangster movie.
Originally Bethan Green's old council town hall, the hotel is all polished art deco grandeur, with coffered ceilings, marble pillars, a sweeping staircase and sleek period details. It's opulent, stylish and has bags of atmosphere. A group of people are leaning over a piano, discussing something, while one of them tinkles a tune - a clandestine meeting of East End gangsters?
In reality, it is rehearsals for the upcoming, hustle-inspired, immersive theatre show, The Grift, set within the hotel itself. Among the group is American writer and director, Tom Salamon who already has a string of successful immersive shows under his belt including Accomplice at Menier Chocolat Factory and Goosebumps Alive in Waterloo's The Vaults.
He takes me through into the hotel's De Montfort Suite - a vast, wood polished space with ornate ceilings and arched windows. At the back is floor-to-ceiling glass and an upper floor room which contains a recreation of a bedroom complete with an unmade bed, books, personal ornaments - as if whoever lives here has just left.  It's one of the sets for the show.
"This bedroom belongs to someone who has lived his entire life in the hotel," says Tom with intrigue, "A master con man. All the characters are connected to him - I won't say how. We have all been brought here, the characters and the audience, in the interest of seeking revenge for what he's done…"
The show is described as part theatre experience, part game, putting you through your paces in a night of devilish hustlin' and high stakes. You'll meet other characters, solve clues and get a masterclass from a con artist in preparation for the final scene where you must take down the criminal mastermind with one show-stopping swindle.
"It starts with fifty people," explains Tom, "Then everyone spreads out into smaller intimate groups of ten and you rotate through these sequences so everyone is able to participate."
The show promises plenty of immersion. "There is all sorts you can do from learning cons that you can go and do tomorrow, to escape-the-room type intelligence tests and activities. The actors are all brilliant at improv so they are ready to react to whatever you choose to do, or you can just kick back and watch it unfold."
It's a thrilling world to delve into. I ask Tom what got him interested in the subject matter. "I love the world of the con artist and I think everyone loves these guys because they're bright. It's not like they're a hustler who picks your pockets, they've figured out interesting, creative ways to manipulate people."
Does he have a favourite con himself? "Well the best one I've ever pulled off is convincing this hotel to let us run about all over the place for a couple of weeks." Amazingly, the show takes place throughout the hotel while it continues to run its business as (semi) usual.
"To be honest," Tom admits, "I got in touch with hundreds of hotels and they liked the concept but said no, which is understandable as it's a big ask. Eighteen said let's meet and talk about it further, so I fly to London. My first meeting is here at The Town Hall Hotel. I explain it and they said it sounds good, let's do it. I go meet the others to see who else is in and they all say no. This was the only place and it's the best of any that I've seen, it's got so much flavour to it."
Having already pulled off a sold-out run of the show in San Diego, and with his endless energy and experienced direction, it is clear to see why the hotel has put its trust in Tom. He is aware that the immersive theatre scene is now a very well trodden path but promises a show that is unlike anything you will have seen.
"It's got a lighter touch, we don't take it too seriously - it's all in good fun. The participatory component is unique too, we're really asking people to play along as much or as little as they like. There are things to do, things to hold, things to play with, locks to figure out, cons to pull off... You're not role-playing either. You play yourself, but in this bizarre scenario taking place in a hotel."
He is also trying to veer away from the chaotic narrative of many immersive experiences: "Most of the time you wander around and choose your own story and when you get bored you go somewhere else, which can be super exciting but this is different, it is guided - which allows us, I think, to more effectively let a story unfold from beginning to middle to end."
Hailing from New York originally Tom has had to spend some time researching and getting to know the area, putting the show through a what he calls a "Britification process". He has re-created a new, partially invented history for the hotel and a backstory that is tied into the local area… an area that was once renowned for its colourful characters and notorious gangsters, all the way from Jack the Ripper to the Kray Twins.
"This was the hotel that said yes and it just so happens to have had the perfect history and you can certainly expect to meet a Cockney character or two who has had a history in this area."
Although, Tom concedes that the Bethnal Green of today is a far cry from its past: "The restaurant in this hotel, The Typing Room, is one of the top ten in London and I keep hearing about these amazing cocktail lounges… this neighbourhood is on the edge of exploding, if it hasn't already."
So if you fancy a night of high-energy swindling, followed by a special mobster menu in the hotel's restaurant and some tipples in a local speakeasy bar, this is probably the show for you. Any last words of advice from Tom? "Play it cool and be confident... and you can get away with anything."
We'll hold you to that, Tom.
---
About the author
Cari Thomas is a freelance writer and London explorer with a background in consumer publishing and copywriting.