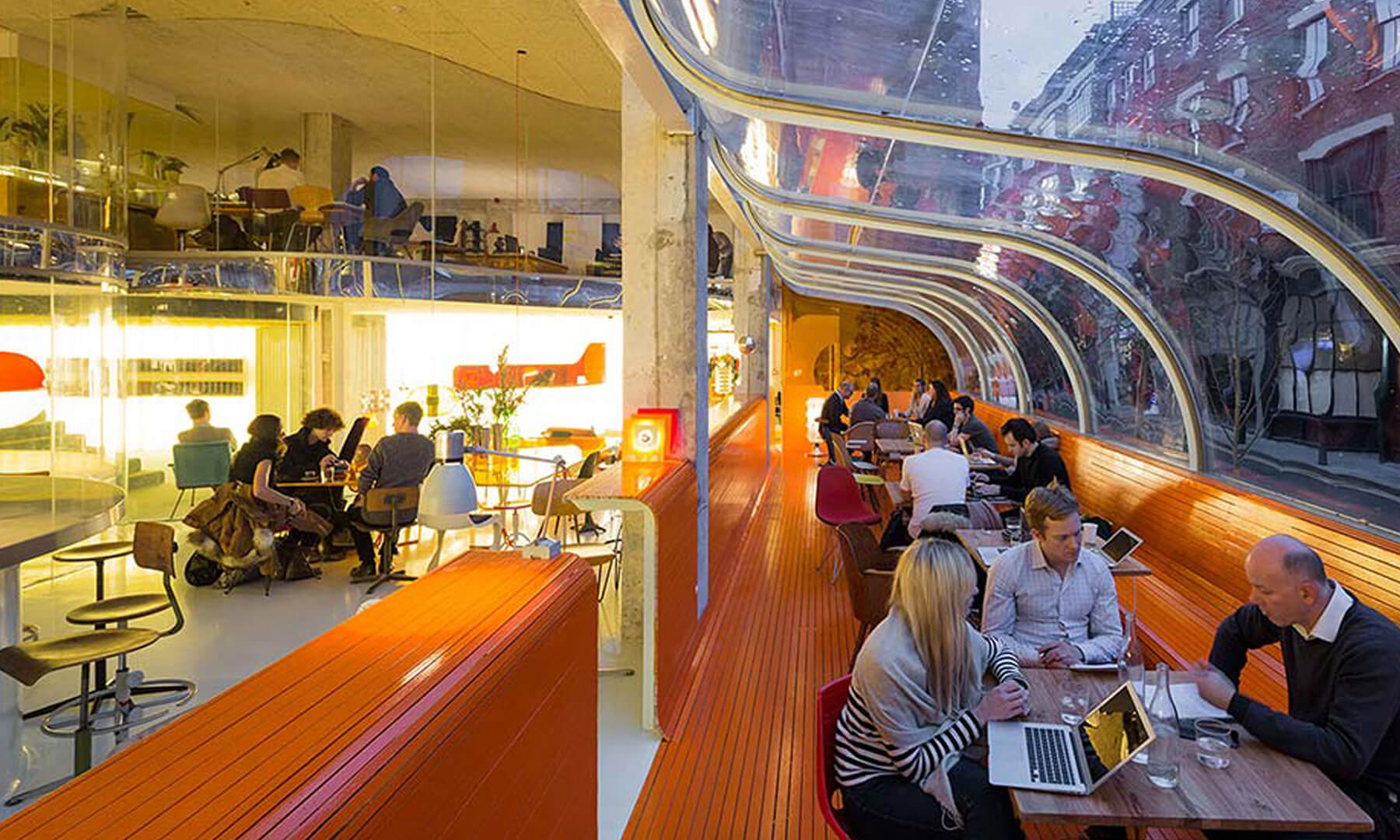 Tucked away on Hanbury Street, just off Brick Lane, amidst the shops and the cafés, there's a row of glowing orange bubbled windows that could easily be mistaken for an art gallery or a minimalist design store. You'd be forgiven for not realising that the building is actually a shared working space. Offices don't normally look like this.
Then again, shared work space and cultural venue, Second Home is revolutionising the way we work and giving voice to the work revolution going on across London. London is renowned for its diversity, where ideas thrive and cross-pollinate and Second Home aims to be a magnified microcosm of this: a space of undefined boundaries where people can work, create, play and collaborate all in one eye-catching package.
Launched in 2014, Second Home Spitalfields is their flagship site, with thriving offshoots in Holland Park and Lisbon. Rising over four floors, the Spitalfields office was designed by innovative Spanish architect firm SelgasCano to "break down the barriers between work and life." There are no straight lines here: the walls are curved, transparent perspex, the corridors snake, the stairs spiral; currents of bright pop art colour connect it all together. Finished off with vintage, mid-century furniture and small jungles of hydroponically grown pot plants, it looks like what can only be described as a large and amoebic bauhaus spaceship.
Co-founder Rohan Silva describes it as a manifestation of biophilia – the concept that humans have an innate need to seek out connections with nature. There is certainly something vividly natural about the fractal forms and tactile textures of the Second Home surroundings. Nature seeps into its philosophy too. It aims to be a greenhouse of germination, a place where ideas have space to propagate and grow and where the roots of businesses can find new ways in which to entwine. A fertile ecosystem of creativity in answer to the sterility of London's corporate world.
It fits around the long-hours and nomadism of startups with companies benefitting from its many flexible spaces, from quiet nooks to buzzing shared working hubs. There's a buzzing café in the entrance foyer, a hanging garden, an aquatic rooftop hangout, a phone-free meditation zone and a library across the road. The culture is grown around interaction, with community socials, yoga classes, film screenings, live music and a non-stop roster of talks and events covering everything from how to market to Generation Z to the neuroscience of productivity. Weekly Be Better seminars invite members to share their skills and learn from each other.
It seems to be working. 75% of members claim to have collaborated with other members in the building and Second Home businesses are growing 10% faster than the national average, according to their recent survey. It selects its members based on how they can contribute to the overall community, placing a diverse range of businesses side by side. The result is energetically diverse with companies such as as aid organisation Help Refugees, global investors Ernst and Young, renewable energy supplier Bulb, VR experience creators Visualise and budgeting platform Beyond all under one roof.
James Williams from Beyond believes that Second Home's set up has been intrinsic to their ongoing success: "It's unlike any space I've worked in before – there's a huge mix of people, business and ideas all in one highly sensory space. You're always able to get a new perspective or input into what you're working on. Plus, you've got Shoreditch on your doorstep."
Second Home plan to open further sites in London Fields, Clerkenwell Green and LA, but it is hard to imagine it spirit and bubbled windows slotting in anywhere quite so perfectly as it does in Shoreditch. A colourful reflection of the area's groundroots collaboration, we suspect its heart will always be a little East.
---
About the author
Cari Thomas is a freelance writer and London explorer with a background in consumer publishing and copywriting.