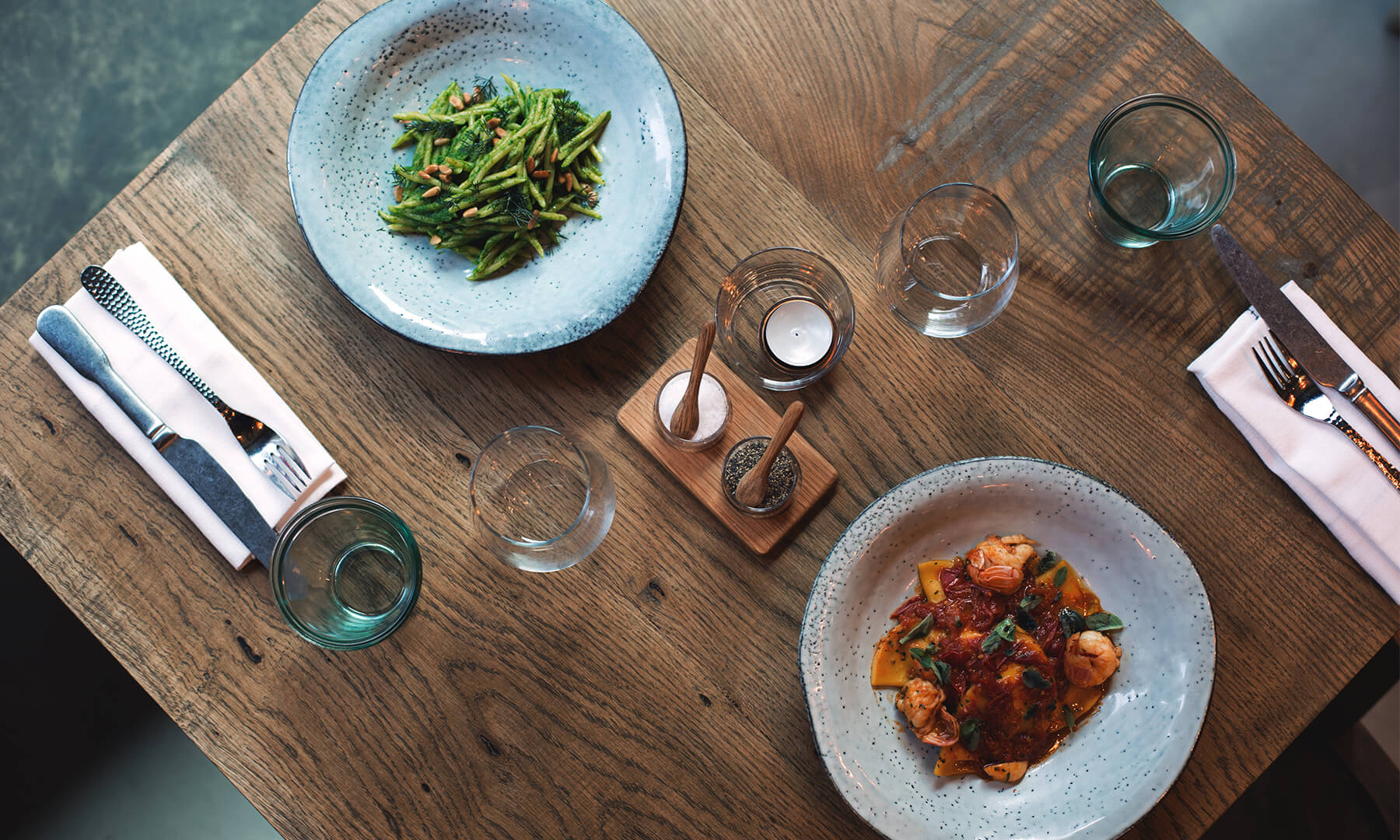 Passo is Shoreditch's new Italian offering, where authentic Italian cooking is given a modern spin and an LA-backed ethos.
Think freshly made food, locally sourced ingredients, enthusiastic waiters, Californian wines and affordable prices. Open from 7am through to midnight and providing brunch, lunch and dinner, you can get your Italian fix whenever you need it.
Brought to us by the team behind Foley's and Rum Kitchen they know how to tick all the boxes. Pinterest-ready decor? Tick. A small but punchy cocktail menu? Tick. Carefully sourced ingredients? Tick. Wood-fired oven pizza? Tick. Easy, breezy atmosphere? Tick. East London's favourite vegetable trend: a whole roasted cauliflower? Double tick.
Compared to the many nook-like, pop-up restaurants there is something refreshing about Passo's ambitious sense of space. It's a big place, but brimming with people and noise, it doesn't feel too big for its boots, rather the place to be.
Located in the new White Collar Factory building, the decor, which has been designed by Alexander Waterworth of Soho Farmhouse and Luca, mirrors the Italian meets LA approach. Its sleek warehouse feel - concrete floors, marble counter tops, clear-cut copper furnishings - is softened with natural, rustic tones and gentle lighting, including showpiece wicker lampshades.
There is a deli-style area at the entrance with a bar and high tables, a main dining area next door and an outdoor terrace. The main area is centred around a theatrical open kitchen behind which the chefs do their culinary dance and the flames from the copper-plated pizza oven glow. Quieter, more intimate tables line the sides of the room, or take up residence with friends at one of the numerous long oak tables in the centre.
There is a swish looking cocktail bar serving contemporary Italian cocktails and a curated wine list from knowledgeable sommelier Zeren Wilson. We order a Classic Italian - aperol, campari, antica formula, honey and lemon - and a Grape Gatsby - spiced rum, homemade grape juice, wine syrup. They make for a light and refreshing start.
The menu roughly follows the Italian template: antipasto small plates, salads, vegetables, pasta, grilled meats and fish and pizza. The ingredients are sourced directly from Italy or the local area such as Hackney's Black Hand Food Charcuterie and Farringdon's Winemakers Club. The majority of the food is made freshly on-site each day including their 24-hour proofed pizza and pasta dough.
Our attentive waiter Michele, who is also Sicilian, advises us to go for a couple of starters and then share a dish from the vegetables, pasta and pizza sections.
For the small plates we receive tracing paper thin, fried zucchini chips with burrata. Their strong charred flavour is perfectly balanced with the creamy relief of the oil-drizzled burrata. The mini-fried artichokes are a salty treat, served on a herbal punch of a sauce with mint, parsley, basil, tarragon, garlic and olive oil.
The pasta dishes are all varieties of satisfying with truffle tagliatelle, burrata and langoustine ravioli and octopus orecchiette ragout. We opt for the wild boar and taleggio pappardelle. The pasta has a good amount of bite, smothered in melt-in-your-mouth boar and punctuated with the sweet tang of port sauce. The pizza is delicious too, the dough light and fluffy and the cheese and fennel salami topping generous. 
The vegetable dish is multi-shaded baked beetroot on a bed of creamy yoghurt, topped with truffle oil, crunchy pepper and hazelnuts. It provides a juicy refresher between bites of pizza and pasta. We don't order the whole cauliflower but are told that it is served with pistachio and a biting chilli aioli.
For the true Italian experience we enjoy a limoncello refresher followed by mint tea and sinful doughy delights: panettone French toast with pistachio ice cream and homemade fried ricotta ravioli with nutella sauce. Michele tells us that the latter is a Sicilian classic. Never has Nutella sauce seemed like the less rich ingredient on the plate, but the ricotta bites are serious stuff - dense and rich, quenched only by the chocolate sauce.
With the music getting ever more energetic it would be easy to sit here all night drinking cocktails and contemplating the other homemade desserts. I would certainly return with a big group of friends, stake out one of the long, communal tables and relish a long evening of drinking and feasting, Italian-style.
---
About the author
Cari Thomas is a freelance writer and London explorer with a background in consumer publishing and copywriting.