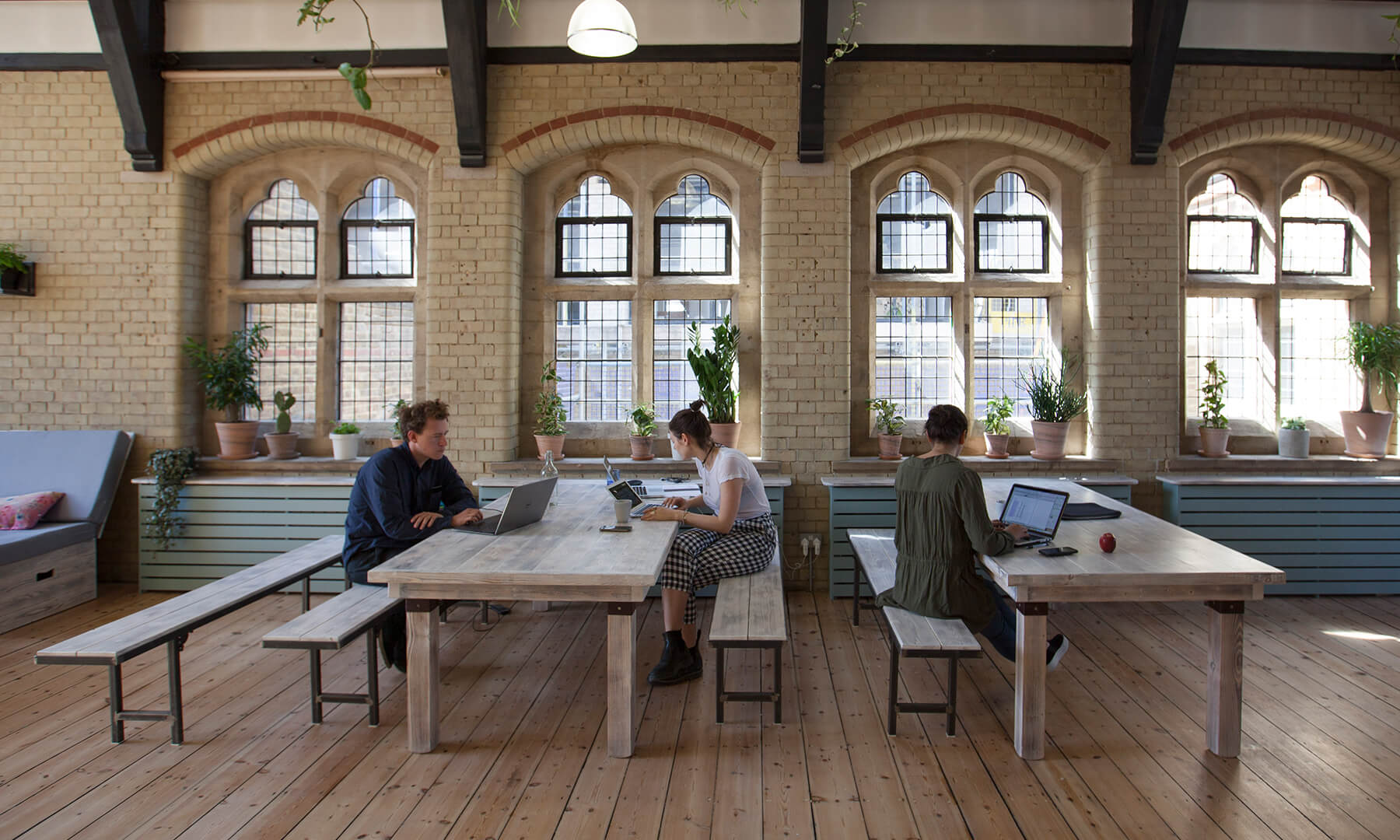 There are a plethora of places to work in East London but none quite like 42 ACRES Shoreditch. 
Set on Leonard Street, on the 4th floor of an old converted school house, it is part sanctuary, part workspace. With high, wood-beamed ceilings strung with greenery and sunlight filtering through vast ecclesiastical windows, the atmosphere is serene and spiritual; a scattering of people sip herbal teas and work calmly at wooden tables or on cushion-strewn floors.
The 42 ACRES concept began with its sister site in Somerset which opened in 2015. 42 ACRES Shoreditch followed, allowing a growing community to find an equally enlightened hub in the heart of the city. As a co-working space it welcomes social entrepreneurs, those working in wellness and creatives, and change-makers. Alongside there is a bountiful events calendar with talks on social issues, ecology and spirituality, plus an inventive collection of workshops from yoga and meditation to breath work and herbal alchemy.
I met with one of its founders and residents, Jeya Lorenz. Having worked in social enterprise and across a range of NGOs, Jeya has always sought to make a difference and has since found her true entrepreneurial calling at 42 ACRES. When she's not within its restful walls, she has discovered other enclaves of peace and connectedness across Shoreditch, which she shared with The Stage...
Most Fulfilling Breakfast?
Renzo, a little café on Leonard Street. They don't have a sophisticated breakfast menu but will whip you up the best scrambled eggs in Shoreditch, not to mention the best coffee in the area, too!
What is the Restaurant you Always Come Back to?
Essence! It's the most delicious plant-based food – their soups are the best, I go there a couple of times a week for lunch. My favourite dinner spot in London is Campania, just off Colombia Road; the food and wine are incredible and it's definitely the most romantic spot in London.
Where do you Like to Shop?
I love Good Hood for gifts and clothes, and SCP next door is amazing for home and lifestyle buys, although it is pricey!
Where do you Exercise?
I use the gym at Shoreditch House and then go to Barre classes at the new BLOK Shoreditch, which just opened recently. I do yoga with Jess Abis on Tuesday mornings at 42 ACRES and with Leila Sedeghei at her monthly Shakti Shop event on Fridays, also at 42 ACRES.
Where do you go to Breathe?
We do a morning breathing and meditation session here with Leo Cosendai and we have an amazing one coming up on 24th April with both Leo and Rebecca Dennis, another incredible breath-work teacher. I also do one-to-ones with an amazing breath-work teacher called Alan Dolan, who also has a retreat coming up at 42 ACRES next month.
Most Peaceful Place to Work?
42 ACRES is without a doubt the best place to work in London! However if I ever need some time-out of the office I tend to go and work downstairs at Renzo, or I love just sitting in the Barbican with my laptop or a book and working there; it's got such a beautiful and unique sense of space and surrealism.
Place to Reconnect?
I love sitting in Arnold Circus in Shoreditch when I need a little bit of time outside. It's got a weird urban magic about it and it provides a calm little pocket in the middle of hectic city life.
Your Favourite Place in Shoreditch?
I have so many, but in the ever-changing landscape of Shoreditch, with new bars and restaurants chopping and changing at the speed of light, I'm a real sucker for nostalgia. There's a little bar just at the start of Kingsland road called The Bridge that has been there for years and years. It's really special and if you go upstairs you're transported to a wonderful little world away from London and into an old Parisian bar filled with quirkiness, velvet and neon lights.