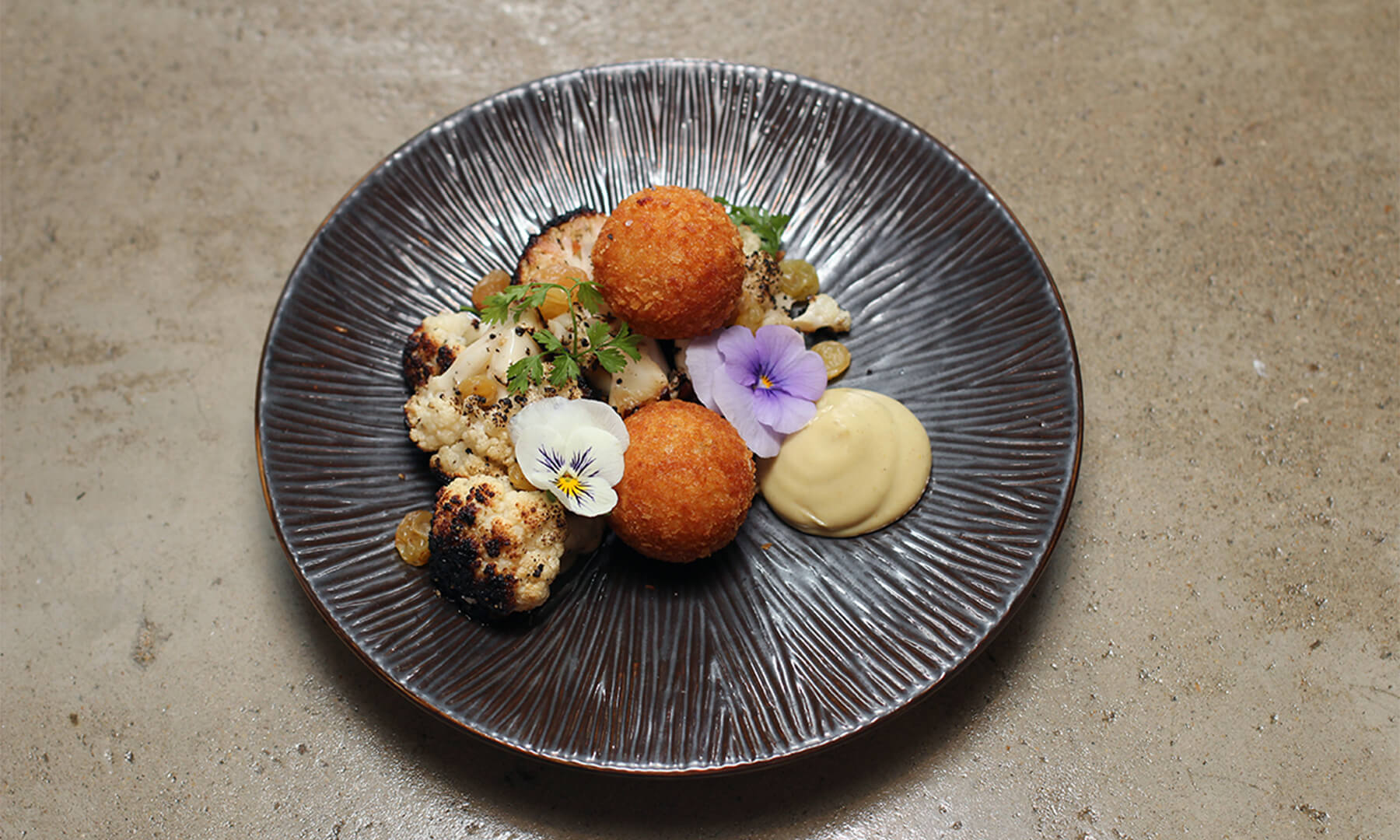 Self-described as a 'velvet fist in an iron glove', Iron Bloom is a new restaurant and cocktail bar in Shoreditch. With hard-edged industrial warehouse décor framing a menu of succulent dishes and delicate cocktails, the description is succinctly apt.
It slots neatly into the many bars and restaurants of Great Eastern Street with its stark, black front giving little away from the outside. Set in a former iron foundry and created by the people behind the quirky Looking Glass Cocktail Club, it aims to bring something different to the area.
One of the founders, William Knowles-Mofford, explains how it taps into London's shift from a drinking culture to a food culture. Iron Bloom will not be about one or the other, but about striking that perfect balance between the two, providing an ideal spot to enjoy a boozy brunch or an evening out with friends. It's polished off with music from DJs playing what they have termed 'supper house' – the kind of music that doesn't intrude but hones just the right vibes.
Putting their concept to the test I head to Iron Bloom for drinks and dinner with a friend. Inside it still has the aura of an iron foundry with exposed brick walls, cast iron pillars, heavy-duty wood tables and even the preserved industrial lift which now houses the DJ booth. The ground floor has an array of seating for groups big or small and a cocktail bar at the far end, while downstairs you can sit along an open kitchen and watch the chefs at work. The neon-graffitied toilets provide a sudden contrast to the muted decor elsewhere and remind guests that it does not take itself too seriously.
The evening begins where it ought to: with the cocktail menu. Devised by Looking Glass Cocktail Club's Marco Zanotto, it is to-the-point with six focused and well-thought-out cocktails to choose from; each alloyed with a particular food dish suggestion. We order 'The Boss' Tipple' – Chivas whiskey, Pedro Ximenez sherry and Amaro del Capo – and the 'Mug Off' – gin, Manzanilla Dry Sherry, French herb liqueur and lemon. The 'Tipple' arrives on fire with a burning cinnamon stick and an exclamation of rosemary leaves. It's smoky, sweet and pleasingly bitter. The 'Mug Off', served in a julep mug, is full of quenching bite, shot through with herby flavours.
Alongside we order from the equally concise food menu of deconstructed British sharing plates. Think guinea fowl pudding, oxtail croquette and belly of lamb; satisfying accompaniments to the subtle flavours of the cocktails. We select the Lobster Doughnut which is a hearty doughy ring topped with lobster pieces and crispy shallots. Then a steak of cauliflower on a bed of soft cauliflower puree with golden raisins; its sweetness perfect alongside gooey goat's cheese-ball fritters. The British-raised wagyu beef and marrow burger is dripping with flavour – a melted collective of juicy meat, smoked bacon, gruyere cheese and truffle mayo, squished between a sweet black charcoal brioche bun. On the side, the truffle and parmesan fries are moreishly good.
There's no DJ tonight but the background 'supper house' and relaxed atmosphere carries us breezily towards pudding, which is an indulgent finale. The dark chocolate delice comes with milky Baileys cream and a brownie. The pineapple mousse tastes like solidified Pina Colada, with a thick coconutty cream, punchy pineapple pieces and a sweet pistachio topping.
As we finish we peruse Iron Bloom's brunch menu, planning our return. It comprises traditional eggy brunch dishes like Eggs Benedict or Royale served up in Yorkshire puddings. We're in. Iron Bloom might be made of iron, but it's not a hard sell: great cocktails, satisfying dining and an easy Shoreditch kind of ambience.
---
About the author
Cari Thomas is a freelance writer and London explorer with a background in consumer publishing and copywriting.