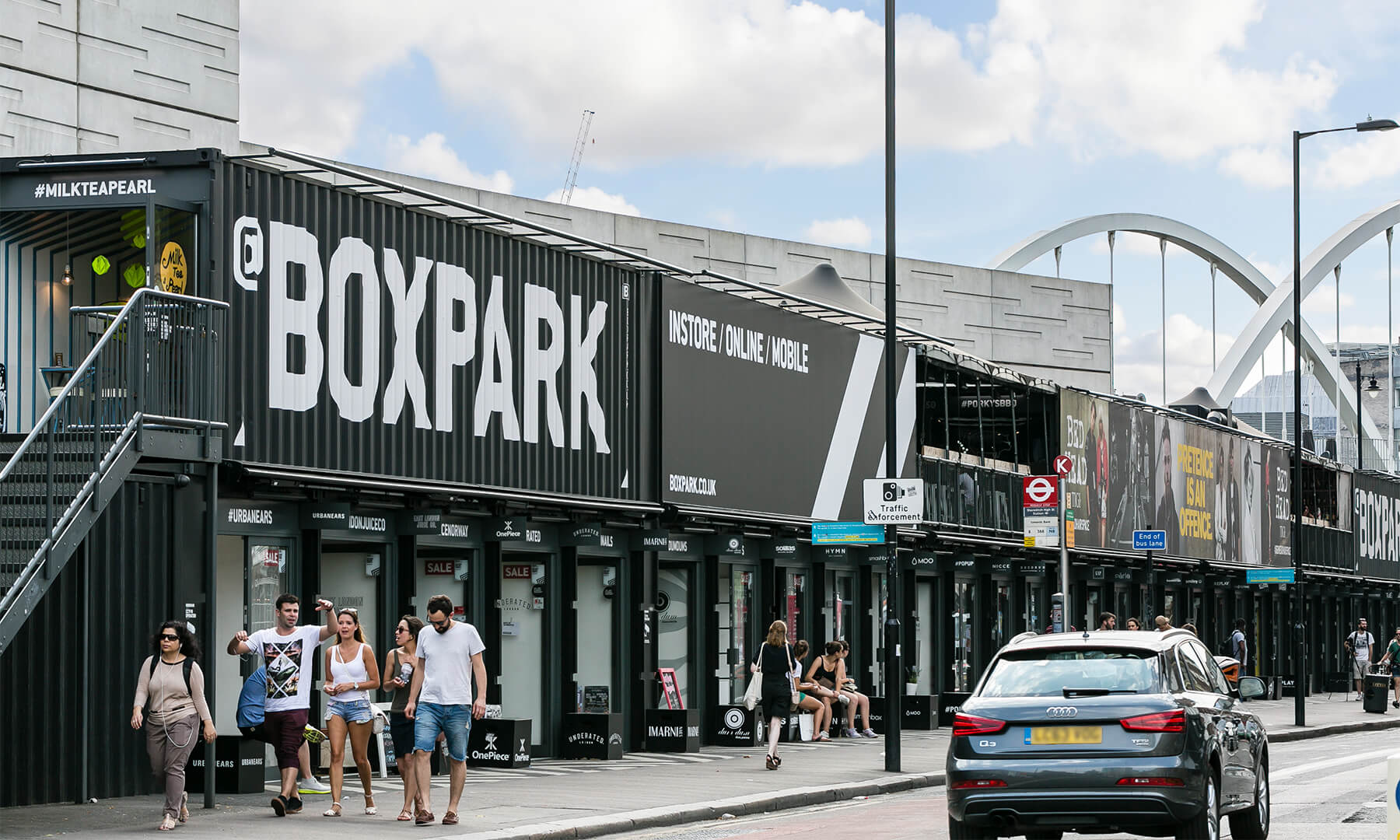 When Boxpark arrived in Shoreditch in 2011 it was a ground-breaking feat: the world's first pop-up mall; shipping containers ingeniously recycled into shops. Now the concept has spread all over London and the world, while another Boxpark has opened in Croydon. As a result, Boxpark Shoreditch is all too often overlooked, but is as brilliant today as when it first opened.
The affordable leases mean the containers attract unique and interesting businesses. The businesses, constricted by the small size, are forced to push their creative bounds to the literal limit. The offerings within are always enticing and constantly evolving. We picked out some of our favourite Boxpark shops and eateries, as a reminder of the big delights that come in their small packages...
Astrid and Miyu
Astrid and Miyu's handcrafted jewellery has been worn by the likes of Georgia May Jagger and Pippa Middleton. The unique pieces are delicate and elegant, while maintaining some East London edge. They are super local, designed in their London studios and produced in their own workshops using hand making and 3D printing techniques. The finish is high quality but the prices are manageable, which is ideal because the pieces look lovely layered up.
Small Batch Coffee
The place to go for your morning get-me-up. This award winning coffee company began in an industrial unit in Brighton and Hove ten years ago. Now it has nine outlets across the south coast as well as one here in Shoreditch, but it still retains the same small ethos: ethical coffee, sourced, roasted and brewed in-house for maximum freshness. Sourcing directly from carefully chosen producers their coffee changes with the seasons to remain in tune with coffee crops around the world. You'll find their classics - Goldstone Espresso, Throwback Espresso and Blue Note filter - as well as a range of limited edition, in-season, single origin coffees.
Decorum
Decorum is the sort of shop that looks like what you want your home to be. The cosy space is decorated with unique and boutique homeware gifts and accessories, tastefully combining vintage pieces with contemporary, hand-picked designers. Their selections are nature-inspired with natural hues and earthy textures, lots of warm woods, glass and stone and all the terrariums you could ever need. The perfect place if you require a quick gift that looks like you've given a lot of thought to...
Rudies
Whether you're looking for lunch or dinner, Rudie's can provide, and then some. The Caribbean aromas coming from their open kitchen set the scene. Their menu is built around fresh, home-cooked Jamaican flavours with signature dishes like 24-hour marinated jerk chicken, curried goat and their double layered Boss Burger. Alongside takeaway roti wraps, they also provide a location-inspired 'Boxfood' concept: Jamaican lunch boxes that will keep you coming back. Their classic Jerk-It-Up Box brings together real jerk chicken, sweet potato, rice'n'peas or chow chow slaw, while the Vegan Box mixes plantain with Appleton rum sauce, sweet potatoes and chow chow slaw.
Get A Drip
Boxpark's most surprising offering has to be its IV Drip store. Hungover? Run down? Jet-lagged? Get A Drip claims that a little IV drip session will get you back up on your feet and dancing in no time. They have a selection of Drip options and Booster shots to get you rehydrated and pumping with life-giving vitamins, ranging from their 'Basic Hydration Drip' at £40 through to 'The Ultimate Drip' at £375. You'll need to book an appointment first, then after a quick assessment by one of their healthcare professionals, you'll be set up with the drip of your dreams.
One O Eight
One O Eight's contemporary designs are quite literally tailored around the busy working women of London. Think soft materials, free flowing cuts and clean lines for those who want to look effortlessly stylish while feeling comfortable enough to walk, run, lounge and slouch. They hand-select their designs from South Korea, searching out quality and originality, bringing the latest trends to the streets of Shoreditch. 
Soft Serve Society
We didn't think anything could get more fun than the soft ice cream van ice cream of our childhoods, but this place takes it to a new level. Soft Serve Society's range of high-quality soft serve ice cream flavours come in a cone, as a sundae, or as a freakshake. If you can handle it, we'd advise the latter. Their 'original' freakshake comes with a waffle, an upside-down cone, cake and an Oreo or try their 'matcha' freakshake with a cookie, pocky, puff pastry and pandan chiffon cake all piled on top.
---
About the author
Cari Thomas is a freelance writer and London explorer with a background in consumer publishing and copywriting.