The Archaeological Highlights from the Excavation of the Curtain Theatre
7th February 2017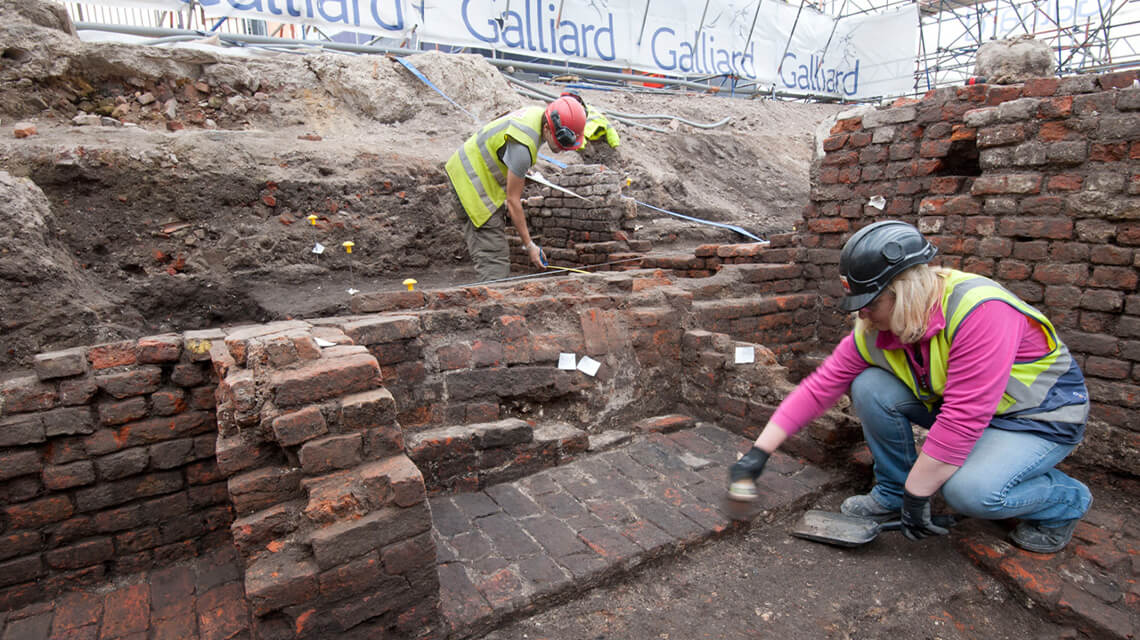 The excavation of the Curtain Theatre provides a rare insight into Elizabethan culture. We look back over the archaeological highlights from last year's dig.
Built in Shoreditch in 1577, the Curtain Theatre was one of London's earliest playhouses. Standing near a plot of land called Curtain Close, from whence it takes its name, the Curtain was at the heart of an area known primarily for its brothels and gaming houses. But, with the construction of the area's second theatre, this particular area of Hackney was transformed from the "suburbs of sin" to London's first entertainment and theatre quarter.
Until recently, very little was known about the Curtain. The theatre's claim to fame is that William Shakespeare is known to have favoured it: he and his prestigious troupe of actors, The Lord Chamberlain's Men, performed there. Indeed, it is even thought that some of The Bard's best known plays were premiered there, Henry V to name but one.
But barring this, very little physical evidence of the Curtain Theatre had been discovered. However, the excavation of the site by archaeologists MOLA revealed a number of artefacts and remains which add substance to the story of one of the Elizabethan period's least historically documented playhouses.
"We know what we are, but know not what we may be."
When the dig began, archaeologists were hopeful but unsure what to expect. It was thought that the remains of the Curtain Theatre, which are approximately three metres below modern ground level, might give archaeologists more clues about the physical structure and use of the theatre.
One of the first discoveries was that, unlike many other theatres of the Elizabethan and extended Late Renaissance period, the Curtain Theatre was neither round nor polygonal. Surprisingly, the theatre was found to be rectangular, measuring approximately 22m x30m, with surviving walls reaching up to 1.5 metres high in places. Furthermore, archaeologists were able to identify the former timber galleries, which had mid and upper areas for those who could afford to spend a little more, as well as a courtyard made from compacted gravel, for those with less to spend.
"All the world's a stage,"
Three months later, MOLA was able to confirm more of the theatre's little known history. They discovered that the Curtain's stage was much longer than originally thought, with evidence of a passageway running beneath it. Archaeologists also confirmed that the theatre was a purpose-built structure at the rear of another building on Curtain Road in Shoreditch. MOLA was also able to confirm that the Curtain was a purpose-built playhouse - rather than a repurposed space with a stage - where people came to be immersed in entertainment.
"Make use of time, let not advantage slip."
By the end of the excavation, the MOLA team uncovered numerous artefacts, including remains of ceramic money boxes used for box office collections and a fragmentary ceramic bird whistle, which raised the question whether it was use as a sound effect in theatrical performances. The close of this momentous dig was marked with a celebratory event, hosted by Jeremy Paxman, who noted that each of these finds has added to our collective knowledge of a prominent Elizabethan theatre, favoured by Shakespeare.
Much is known about the Elizabethan period but also much has been lost. This excavation of a historic and long-buried historical landmark has provided rare insight into Shakespeare's world, the cultural makeup of Shoreditch, and the theatrical performances of the 16th and 17th centuries. We look forward to revealing more. This is only the beginning.