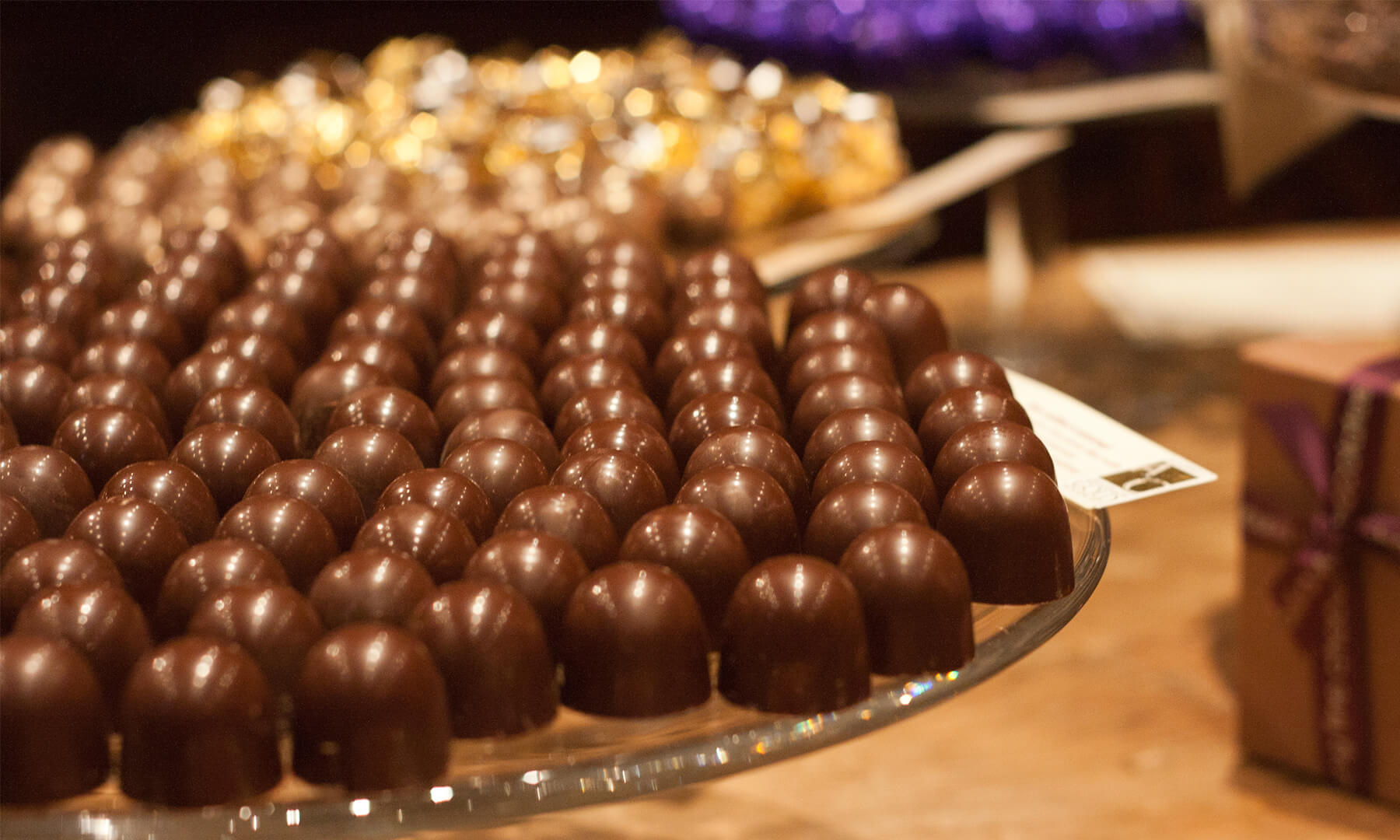 Shoreditch is like a box of chocolates – you never know what you're going to get. From ethical treats to chocolate pizzas and chocolate-smothered bubble waffles we've picked our top cocoa fixes. Breakfast, lunch or dinner, no one is judging.
Follow the scent of roasting Ghanaian cocoa beans down Brick Lane and step inside the heady woodland chocolate wonderland that is Dark Sugars. With tree-like bowls adorning every surface, you can pluck at the chocolate delights like fruit. The owner Fatou Mendy has travelled from Belgium to Switzerland, to South America and Ghana learning how to create authentic chocolate. Her shop now offers seriously good, high-quality, low-sugar chocolate made from Ghanaian cocoa beans. Set to a backdrop of Latin American and African beats, come in, ride the rhythms and pick between such indulgences as liquid sea salt caramel pearls, cardamom and orange truffles, Jamaican white rum chocolates and chocolate mango slices. Or if you're feeling wild try their Pitch Black Hot Chocolate which, topped with a mass of shard-like chocolate shavings, looks like the whole forest fell in it.
Box Park's Nosteagia combines Asian sweets, English treats and a heavy sprinkling of candified nostalgia. Inspired by the popular Hong Kong egg puff, their bubble-shaped waffles come warm and doughy, folded in a cone and served with an array of titillating toppings. There's the staple chocolate sauce and cream, Nutella and banana, peanut Coco Pops, coconut, chocolate chip cookie, Oreo, M&Ms and more. Pick your favourite combination and enjoy alongside a bubble tea.
Paul A Young Chocolate Concoctions
Paul A Young is the Oscar Wilde of the chocolate world...dedicated, distinct and delightfully innovative. The award-winning chocolatier now has three shops across London but still maintains his fastidious approach, with both him and his team making each chocolate by hand every morning. This is godly stuff – you won't find any compounds, concentrates, essences, preservatives or additives in any of his chocolates. He also embraces seasonal ingredients creating fresh and enticing flavour combinations. For spring you can find such surprising chocolates as mint julep, lemon tart, milk orange crunch, harissa caramel with prune syrup, duck a l 'orange (duck fat caramel with a confit clementine layer!) and even basmati rice saffron and rose. Alternatively order one of his classic brownies or a sea salted caramel billionaire's shortbread alongside his thick and thunderous Aztec hot chocolate.
Duck and Waffle's Chocolate Fondant
It's possible that chocolate fondant tastes better at altitude, or maybe it's the peanut butter combination, but either way the Duck and Waffle's artistic fondant is a sky-high sensation. Served with peanut butter ganache, vanilla ice cream and praline crunch, it has the perfect amount of melt when you crack it open. Head there after dinner for the decadent dessert alongside their black chocolate tea.
Crosstown Shoreditch's Chocolate Doughnuts
Crosstown Doughnuts has to be one of our favourite doughnut places with rolled-by-hand sourdough doughnuts oozing with freshly-made fillings. Their chocolate flavour combinations are easily the best – the hard part is choosing which one to go for. Take a moment to consider the Chocolate Truffle (including a vegan option) – filled with milk chocolate truffle mousse, topped with dark chocolate ganache and dusted with cocoa powder. Or there's the Lamnut – a raspberry jam centre and a dark chocolate coating tossed in coconut. Or perhaps the Sea Salt Caramel Banana - fresh banana custard encased in chocolate sourdough with sea salt caramel and chocolate soil. One of each, the answer is always, one of each.
Pizza Pilgrim's Chocolate Calzone
Pizza joints don't normally top a chocolate list but we have to commend the devilish spirit of Pizza Pilgrims. Go to the restaurant, bring along your own chocolate bar and for dessert they will turn it into a chocolate calzone. That's right – your favourite chocolate encased in a gooey hug of dough and then baked. It's so perfect we could cry. There is also their prayer-answering Nutella Pizza Ring pud, which translates to dough filled with Nutella and salted ricotta.
Montzeuma's is Britain's most playful chocolate brand; from bright packaging to fun flavours, it isn't taking its beans too seriously. Founders and spouses Helen and Simon went from an inspirational trip to South America to opening up a little shop in Brighton, to then becoming one of the most innovative and ethical chocolate brands around. It only has a handful of stores but one of them just happens to be in Spitalfields Market. It's a great place to find British-friendly gifts with a range of Brit pudding bars, including chocolate apple crumble, chocolate spotted dick and chocolate Eton Mess. There are also vegan and organic truffles, an array of fudges and chocolate lagers to wash it all down.
---
About the author
Cari Thomas is a freelance writer and London explorer with a background in consumer publishing and copywriting.