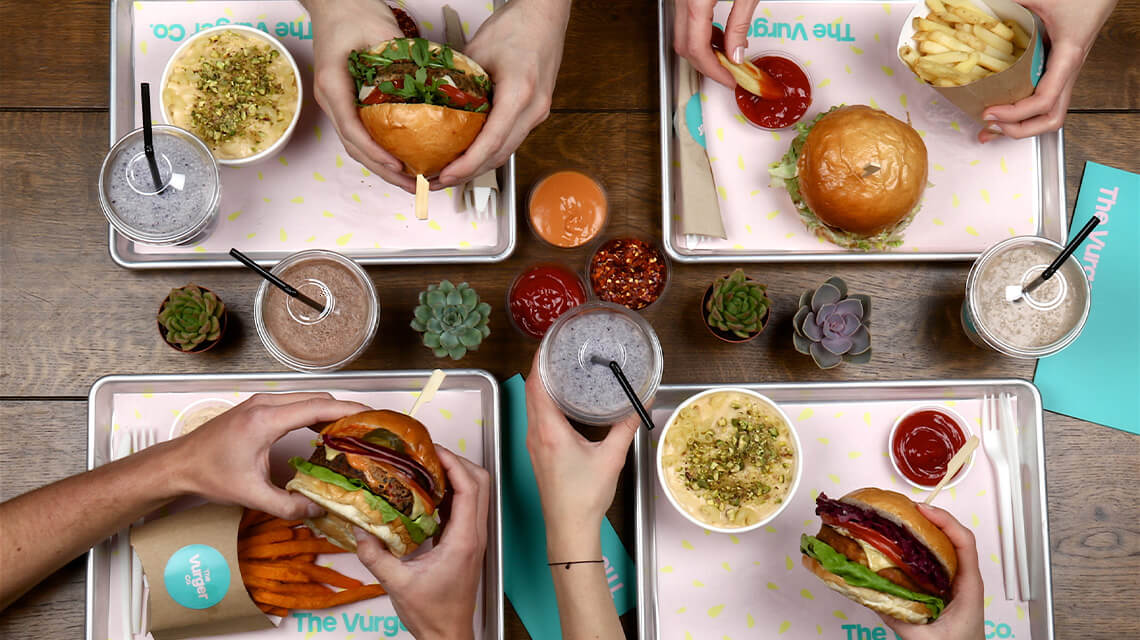 Eat, drink, shop, play, learn and party your way through March with the help of our March round-up.
Eat: Vegan Treats
From the fully-fledged to the tentative vegan, March is ready to shower you with kale, kombucha and kohlrabi. If these don't mean much to you then head to the Viva Vegan Festival at Shoreditch Town Hall March 17 and 18. There are 80 stalls, a vegan bar, talks and cooking demonstrations throughout the day. Among the food offerings you can taste-test VDogs - freshly made vegan hotdogs, Yu & Mi - authentic, healthy Japanese food, Vork Pies - we'll let you guess that one, and a variety of vegan cakes and treats. There's also cruelty-free cosmetics, vegan fashion, homeware and even the Original Beard company, which provides natural products for the beardy vegan. Only in Shoreditch. There's more good news for Vegans this month. The hugely popular vegan burger joint Vurger Co is setting up permanent residence in Shoreditch's Richmix Square near Brick Lane in March. If you don't believe burgers can be vegetable-based, just look at their tantalising creations on Instagram. Their menu will contain a new underwraps burger addition as well vegan truffle mac n cheese and house made shakes.
Drink: Horatio Street Social
Shoreditch's Nelson's Head has a secret below deck: new cocktail bar Horatio Street Social has just opened in its basement. Owners Simon Thompson and Jake O'Brien Murphy, who worked together previously on the award-winning Calooh Callay, are aiming for the kind of place in which you can have a good night out, no pretentious or over-priced cocktail strings attached. It's a speakeasy with the emphasis on the easy: welcoming hospitality, original yet down-to-earth cocktails, an informal space with wooden walls, nautical lanterns and low-slung tables alongside a playlist of eclectic beats. They have ten cocktails on the go at one time but plan to keep the menu snappy, changing it on a monthly basis. 'Garfield's Funeral' is a celebration of the Old Fashioned combining Lot 40 whisky, Angel Share Syrup and black trumpet mushroom tincture, which promises darkness woodiness and notes of umami. 'Kill the Cook' is tequila, red pepper, Urfa spice, Red Iron Solution and lime forming a sweet, smoky drink that is reminiscent of a Tommy's Margarita. We're also intrigued by 'Lips' which is described laconically as "electrocuted ribena".
Shop: Like A Woman Bookshop
To celebrate the hard-hitting double whammy of International Women's Day and the 100th anniversary of women's suffrage, Penguin have teamed up with Waterstones to create a pop-up bookshop selling only books by women authors. The Like A Woman Bookshop is open from March 5 - 9 on Rivington Street in Shoreditch and will be stocking titles from some of the greats including Margaret Atwood, Malorie Blackman, Iris Murdoch, Caitlin Moran, Malala Yousafzai and Zadie Smith. Celebrating female voices who have fought for change, the books are organised not by genre but by the impact the author has on culture, with browsing areas such as 'essential feminist reads' or 'women to watch'. The bookshop will also be host to a series of inspiring talks, the proceeds of which, along with book sales, will go to Solace Women's Aid, a charity providing practical and emotional support to survivors of domestic violence.
Play: Ben and Jerry's Cake-Shaped Ball Pit
Ben and Jerry's are celebrating their 40th birthday and want us all to join the party. There's cake and a ball pit involved so it's very hard to say no. They are hosting a free pop-up in Spitalfields Market on Saturday March 10, inviting members of the public into a ball pit designed to look like a giant birthday cake. It promises 45,000 balls, giant candles, icing and frosting. After playtime you will be treated to a taster of their new Birthday Cake ice cream, which is a childhood-dreams-do-come-true mix of vanilla cake batter ice cream, pink frosting, strawberry swirls and cake pieces. It might be a PR stunt but it's an irresistible one.
Learn: Street Photography with Charlie Kwai
Photographer Charlie Kwai is renowned for his ability to capture flash-in-your-face portraits of the everyday, bedraggled, ungainly and strangely fascinating Londoner. His recent book Overtime zooms in with gentle humour on the slow deterioration of The City's businessmen. He believes his success is down to walking the streets of London for days and hours on end honing his technique. In this workshop on March 18 hosted by Hackney Arts, you can explore the streets of East London where he grew up. Beginning at the industrial Café 1001, he'll teach you his personal take on street photography before taking you out into Brick Lane where you can find your own style.
Party: St Patrick's Day
It's St Patrick's Day March 17 and to be sure, to be sure, Shoreditch knows how to party Irish style. Start at the Irish owned Water Poet pub in Spitalfields which kicks off celebrations at 11am. They promise craft beers from Irish breweries and Guinness by the bucket load. Get your flags waving to watch the Six Nations finals including England v Ireland alongside some hearty Irish fare including Irish stew and Barmbrack with Guinness butter. Afterwards, it's a short hop to The Ten Bells which is theming its drinks around the holiday including a Guinness and Baby Guinness chaser and a Chieftain IPA and Jameson chaser. Then riverdance your way to The Shoreditch Platform for their St Paddies Loft Party. The intimate NYC style venue have invited East London's most feel good house, electronic and disco music collective DEFINITION to get your shamrocks shaking until the early hours.
---
About the author
Cari Thomas is a freelance writer and London explorer with a background in consumer publishing and copywriting.