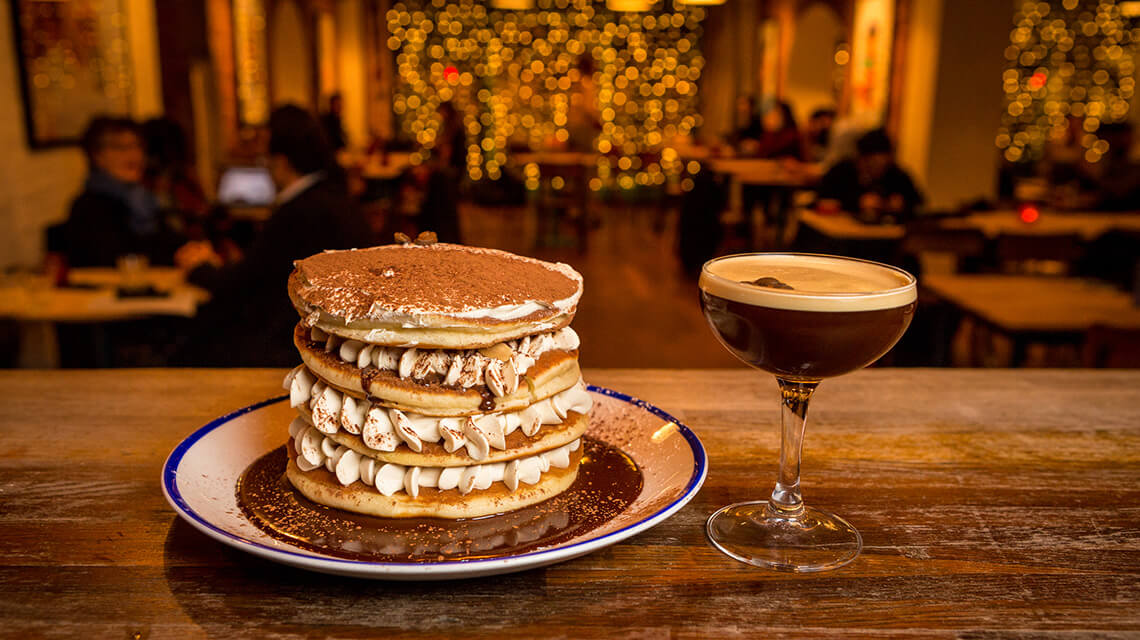 January is over. We can now eat, drink and enjoy ourselves fully once more. Shoreditch is providing the sustenance with a Craft Beer festival, Pancake Day gluttony and a Creme Egg toastie. There are Valentine's Day celebrations too, suitable for all levels of romantic tolerance...
Eat: Pancakes in Shoreditch
There is one day of the year where we can shamelessly glut ourselves on pancakes and Shoreditch takes the time to honour this tradition. For Pancake Day The Book Club on Leonard Street have taken the genius move of combining the devilish Espresso Martini with the humble pancake to create: The Espresso Martini pancake. American pancakes, Kahlua Cream and chocolate, Espresso and vodka sauce. For one day only. On the side? An Espresso Martini, of course. The Queen of Hoxton are splashing out for Shrove Tuesday with pancakes on their Moroccan Medina rooftop. For maximum fun there's a DIY station with sauces, spreads, fruit and sprinkles. The Breakfast Club in Hoxton have put together a flip-out collaborative menu to fulfil all your pancake dreams alongside their charitable annual Pancake Challenge. If you're after something more refined, book a table a L'ami Malo, which puts a contemporary spin on the classic French crêpe. Smoked ham, duck egg, maple cured bacon and Comté cheese galette anyone?
Drink: Craft Beer Rising 2018
Craft Beer Rising returns for another year, rising higher than ever with more beer brands, hotly-tipped food vendors and top DJs across the three day event. Held at the Old Truman Brewery, there'll be 175 breweries exhibiting their beers with product launches, beer tastings and the opportunity to meet the creators of your favourite malts. Exciting newcomers include Lost + Found A.BL, Unity Brewing Co and Fierce Beer, while there'll be local London favourites such as Gipsy Hill, Canopy Beer Co and Mondo, as well as well-established brands. The DJ lineup includes Massive Attack's Daddy G and Krafty Kuts. There's also plenty of food to go with all that beer - Indian Hot Kati Rolls from Kolkati, Taiwanese steamed buns from Le Bao and Kansas BBQ meats from Prairie Fire BBQ. There'll be bars snacks by the barrel load with jerky, pork crackling, cheese and all the nuts you could need.
Shop: Flowers from Grace and Thorn
It's Valentine's month, so whether you're looking for flowers for someone else or just a treat for yourself, head to Grace and Thorn. Forget insipid, over-pruned roses or half-strangled bouquets, Hackney Road's Grace and Bloom craft beautiful, untamed, rebellious bunches of feathery-soft and foliage-heavy blooms. Valentine's bouquets include their St Valentine Bloom, New Romantic and Hackney Red - all sumptuous and wild and, just like your other half, no bloom is the same. If you're looking for a twist on the usual dozen red, they serve their devilishly dark roses in a handmade wooden box. If you want to make an everlasting statement, pick up a plant. They have the niftily named String of Hearts and String of Pearls or 'Valentines succs' - a cute little set of succulent plants in pretty pots. After all, nothing says I love you like succulents.
Play: Creme Egg Camp
If you go down to the woods today you're in for a big surprise: Creme Egg Fongoo. We're not entirely sure what it is either. To celebrate the early stirrings of Easter, Cadbury's are hosting an immersive Creme Egg experience in Old Street's Last Days of Shoreditch. Just follow the secret pathway down to the hidden woodland tree house and don't look back. There's a campfire kitchen which will be cooking up a variety of gooey Creme Egg treats: cookies, cakes, waffles, toasties (yes, bread and melted Creme Egg) and Creme Egg Fongoo. It costs £5 to enter and all proceeds go to youth charity The Prince's Trust, so all that eating is for the greater good. Just get down there fast, Creme Eggs don't grow on trees.
Until 18th Feb, Find Out More
Learn: How to Breathe at 42 Acres Shoreditch
With spring on the horizon, it is time to give your body a spring clean and your breath is the best place to start. 42 Acres Shoreditch is a stunning, 'conscious' co-working space and sanctuary aiming to bring a little wilderness into London's streets. It is putting on a three-part transformational breath series which will transform your life from the inside out. It aims to teach you how to breathe properly, deeply and fully, as well as how to let go of the physical, mental and emotional blocks that stop us doing so. These steps will help you to unlock untapped energy, reach a higher state of awareness and connect more deeply with yourself and the world around you. A big task for a little breath. It is led by breath expert and coach Rebecca Dennis, international author of 'And Breathe' and founder of BreathingTree.
See: Arabic Poetry of Love and Lust: 7,000 Years of Female Desire
If the question what do women want? baffles you - then try thousands of years of female love, lust and desire. This Queen of Hoxton's intimate evening brings together ancient and modern Arabic art and poetry to demonstrate just how a woman's heart will not be silenced. Readings from ancient Arabic poets including Hafsa bint al-Hajj Arrakuniya and Wallada bint al-Mustakfi blend surprisingly easily with vivid responses from contemporary poets. There's no better way to celebrate Valentine's than paying testament to the ambitious desires and enduring strengths of the female artist. There will also be a selection of art from touring exhibition Radical Love, which aims to challenge stereotypes about female creators and preconceptions about women from the Middle East. Profits from artwork sold are split between artists and The Global Fund for Women helping Syrian Refugees.
---
About the author
Cari Thomas is a freelance writer and London explorer with a background in consumer publishing and copywriting.