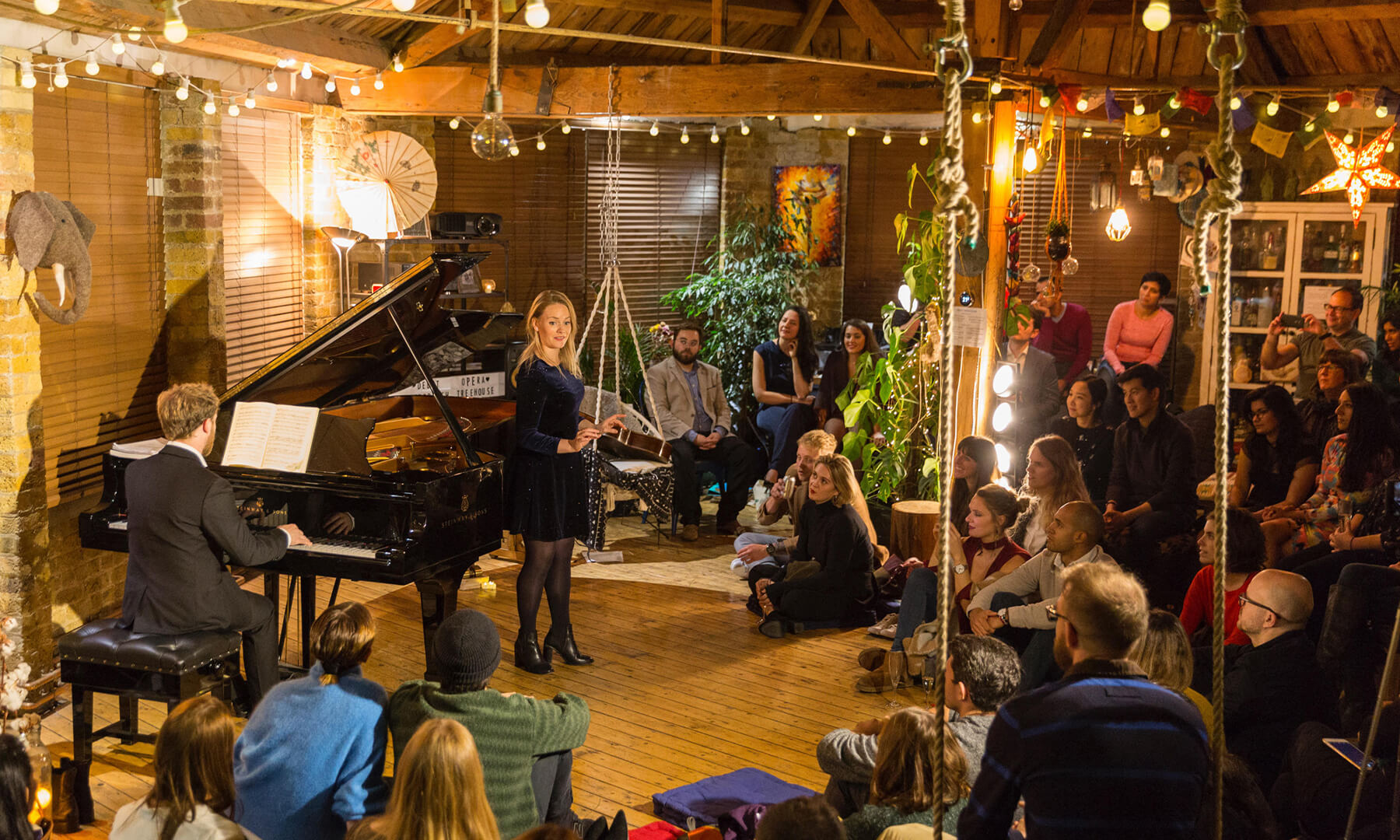 A penthouse treehouse… located in the middle of Shoreditch... containing a Steinway concert grand piano. A series of increasingly implausible statements. There's another: this is the location of a monthly opera and classical music concert known as Debut Treehouse.
You'll find the treehouse just off Shoreditch's busy Great Eastern Street. It is in fact a bohemian loft space on the top floor of an apartment building. However, step inside and it feels every bit a treehouse: an expanse of space, polished wooden floors, wooden ceilings, thick beams adorned with fairylights and brightly coloured Nepalese prayer flags, eclectic furniture and ornaments from around-the-world travels, green foliage and a large indoor olive tree. Throw in a hammock chair and a swing and you have been transported to the treetops of distant and magical woods.
I met with its owner Ross Elder to find out how this unique location has become the setting for these increasingly popular music events. The Debut Treehouse concerts, which are held every last Sunday of the month, are being booked up weeks in advance and have just been voted the second best Airbnb experience out of its 3100 experiences across the world. During the evening the audience is treated to performances from a diverse lineup, from opera singers to West End performers to talented musicians. As well as classical stars, they have had the likes of Emeli Sandé, Jon Hopkins and Gregory Porter grace the treetops.
"Of everyone who attends I normally find that about half are tourists visiting London, wanting to do something off the beaten track, but the other half are locals using Airbnb to find interesting things going on," Ross explains, "and the concerts here are completely different to anything else you'll find."
Their story begins with the star of the show: the piano. Having sold his company Ross moved to London three years ago taken with such an unusual apartment in the heart of Shoreditch (its previous owner was Keira Knightley).
"I had this unique space and I wanted to get back into piano playing so I treated myself to an extravagant purchase. I began looking at Steinways, then larger Steinways… in the end I went for the largest they do, the concert grand - nine foot long and half a tonne in weight! They are normally in a concert hall playing along to thousands of people as part of a 32 piece orchestra . They would be too much for most homes but there is space here for the sound to rise and escape and the acoustics are just perfect."
It took a licence to close the road, a crane and some careful navigation through the flat's french doors to manoeuvre the piano into its new home, but the rest is history. Ross began hosting the odd charity concert in the space and then moved onto the hugely popular Sofar Sounds events. In a musical turn of fate, he met opera singer Lizzie Holmes who just so happened to run the company Debut which books out newly graduated and rising opera and classical music stars for events.
Lizzie and Ross found that their musical visions aligned in tuneful harmony. They were both frustrated by gigs in bars where you can't hear the music properly or concerts in large halls where you end up watching a musician on a screen and hearing the music through amplified speakers. They wanted to bring music back to the people.
"Lizzie suggested that we try to run our own concert, so we did a free one, then another and before we knew it the Treehouse concerts were born."
Ross certainly paints a compelling picture. "There are about eighty people here, sat in a campfire semi-circle around the piano, on thai mattresses, little benches, tree trunks, stools and chairs. The room is lit with 200 candles and the glow of fairylights. There is this fairytale woodland atmosphere. You can hear a pin drop. It creates this amazing connection between the musician and the audience. You can hear them breathing, you can feel the connection between the players. Then there is the sensational sound of the piano at the heart of it all."
Lizzie handpicks a diverse collection of under-wraps performers every month. "The quality is ridiculous. We have had a singer here performing a song from Les Misérables and then Lizzie tells me that the performer just played Javert in the show. We've had award winning performers including pianists who hold all the major piano accompanist prizes in the UK and numerous singers from the Ferrier Awards & Wigmore Hall International Song Competition.
No evening is ever the same either. "Lizzie likes to pepper them with little surprises. One of my favourite moments was when two opera singers who had been performing Carmen at the Grange Festival began a duo. Then all of a sudden individuals within the crowd started rising up and singing - she had planted other members of the cast around the room. It was this beautiful and completely immersive moment."
Ross thinks that the intimacy and informality of the evenings are part of their success. "Lizzie does the compering on the night and gets the musicians to introduce themselves first and talk about their lives. It is this really interactive experience. The audience and the musicians then mingle during the break over a glass of Champagne or local craft beer and I encourage anyone who can play the piano to have a go."
Even if classical or opera music is not your bag, Ross believes that one evening in the Treehouse can completely widen your horizons. "I get so many people coming up to me saying that their ticket was a surprise present or they have come with a friend and that they didn't think they liked classical or opera music, but then they say that music-wise it is the most amazing thing they have experienced."
And a concert in a treehouse in Shoreditch really is something that has to be experienced to be believed.
---
About the author
Cari Thomas is a freelance writer and London explorer with a background in consumer publishing and copywriting.