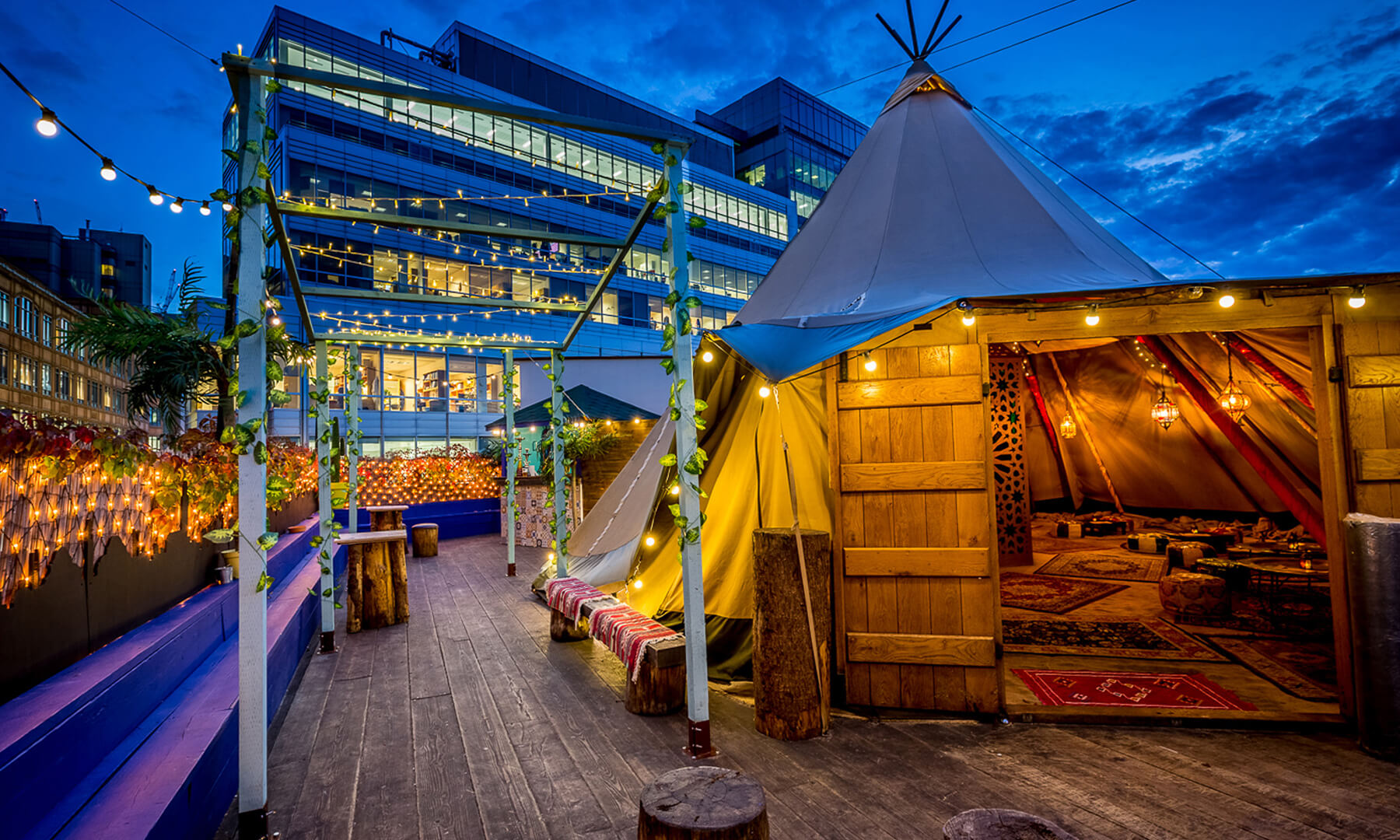 Pop-ups are popping like crackers over East London, bringing you all things festive and jolly - we're not quite sure where a 70s Playboy Mansion, a Moroccan garden and a Bloody Mary mince pie fits into that, but go with it, it's Shoreditch.
Magic Roundabout: Christmas time machine
There are few tube stations in London where you can host a successful Christmas party complete with music, food, drink and dancing. None, in fact, except Old Street's Magic Roundabout which has been transformed into a back-in-time Christmas destination. Their festive foray into our favourite decades encompasses a 60s themed bar with serious Woodstock vibes and a luxurious 70s Playboy Mansion-inspired lounge replete with sheepskin rugs, roaring log fire and taxidermy. The main bar has been turned into a glittery 80s disco dance floor while the VIP area is all Fresh Prince of Bel Air 90s. If that isn't enough to keep you occupied, the covered and heated winter space has a selection of hot toddies and sparkling cocktails, plus BBQ food from Smokin' Lotus. Pick a decade, hunker down and enjoy their 11-hour smoked beef or tofu with Japanese-style mash.
Queen of Hoxton: Moroccan rooftop medina
The Queen of Hoxton have converted their rooftop wigwam into a Moroccan haven, bringing colour, light and the spiced scents of shisha to the cold London nights. Recline in the central tent upon Moroccan rugs and pillows, surrounded by silk drapes, shimmering lanterns and low-set tables. Decorated with cacti and fairy lights, the outside area is a romantic recreation of the Jardin Majorelle - one of Marrakech's most lovely green spaces. You almost believe you were in the Red City if it wasn't for the views of East London... They will be serving up exotic treats to have you warmed up in no time from lamb and apricot tagine, to halloumi fries, to delicious drinks, including apricot brandy bellini with pomegranate seeds or Spiced Hot Buttered Rum.
The Aviary: High Altitude igloos
Set on the borderlands between Shoreditch and The City, The Aviary has paradoxically created the warmest Arctic igloos in London. Head to the 10th floor of the rooftop restaurant and bar and get yourself settled into one of its high-rise igloos overlooking the city skyline. Decorated with ice blue twinkling lights they are adorned with scandi-like comforts from cosy faux fur blankets to snug rugs and hot water bottles. Hot toddies will complete the experience, with their take on the mulled negroni served in sharing tea pots and sumptuous rum hot chocolates topped with a snowfall of marshmallows. There are seasonal sharing platters on offer or pop to the 9th floor afterwards for a private, three-course festive dinner.
Last Days of Shoreditch: Winter La La Land
The place to go if you're looking for a rip-roaring festive party, the Last Days of Shoreditch space has been covered over and warmed with fire pits and outdoor heaters. There are street food traders, thawing cocktails, non-stop DJ sets, a dance floor and everybody's favourite Christmas activity: karaoke. With five bars to choose from, there's everything from warmers like guava and orange mulled wine and spiked pepper mulled cider, to refined Ernest Hemingway inspired cocktails. Choose from award-winning BBQ pulled pork from finger-licking midwestern pop-up Smokey Tails, or "filthy vegan junk food" from Biff's Jack Shack, or a hefty burger from Cheeky Burgers. There are DJ line ups every Thursday, Friday and Saturday or hire a room and make your own music in the form of Lucky Voice karaoke.
Boundary: Christmas a la Méditerranée
If you are after a more refined festive experience or an intimate date night then head to Boundary's rooftop space for a Mediterranean take on the holiday. There is the rooftop's heated orangery, filled with delicate lemon and clementine trees, or book a snug around the open-pit fireplace in the winter garden. The Mediterranean menu has some satiating seasonal inclusions from raclettes to baked cheese and Fondue Savoyarde. They are also serving winter warmers alongside their usual rooftop signature cocktails. Sip on winter negroni or a warm red wine with fresh orange, lemon, cloves, cinnamon and star anise to the crackle of fire and views of East London's skyline.
Lululemon: Christmas Vurger pop-up
Cult yoga store Lululemon has welcomed The Vurger Co, a vegan burger pop-up behind its Spitalfields store. Delivering hearty and good-for-the-heart plant based vegan burgers, you can even order the Christmas Vurger special. Pop down there at lunch to grab a parsnip and chestnut patty topped with homemade stuffing, chilli cranberry jam and crispy parsnip tails, smothered with clementine mayo. They're also serving organic coffee from the beloved LA-based Canyon Coffee company.
Until 22nd Dec, find out more
fodder: Festively foraged menu
If you know your culinary pop-ups then you'll want to get down to fodder. Following two sell-out pop-ups as part of the Borough Wines & Beers' Chef Development series at Brewery Below, Islington and a two-month residency with Platform 1 in East Dulwich, they have now taken up shop at Curio Cabal. Created by two ex-Fera at Claridge's chefs the experimental menu serves "fine dining gone wild" drawn from local, seasonal ingredients, much of it foraged by their own hands. They're offering their usual tasting menu and a la carte option plus a special Christmas menu for group feasting throughout December. Foodies can delve into raw venison seasoned with acorn, roasted barley and elderflowers, duck with summer and autumn plums and chewy beetroot and fig leaf pud. The drinks are just as inventive - where else can you try a smoked chestnut White Russian or crab apple rum?
Mac and Wilde: Hunting lodges
Scottish restaurant Mac and Wilde know how to recreate Highland cosiness: blankets, heaters and lashings of whisky. They've set up private Winter Highland Hideaway Lodges outside their Devonshire Square restaurant. Available to seat 10 to 12 people, there is plenty of room inside to nestle down with friends among tartan furnishings, furs and heather and pine foliage. With personal speakers you can plug in your own Christmas playlist and enjoy mulled wine, winter gin cocktails from The Botanist and a choice of over 200 whiskies. Mac and Wilde's generous food menu is also on offer with their annual favourite the Mac & Wild Christmas burger finished off with whisky sticky toffee pudding.
Boxpark: Bloody Mary café
It may never have occurred to you to visit a Bloody Mary Café but now that one is opening for two days only, it would be rude not to. 'Tabasco' is offering a non-stop stream of Bloody Mary themed drinks and food at Shoreditch's Boxpark. This includes a Wasabi Coriander Micro Mary, designed by award-winning bartender Rich Wood. The food is suitably wacky, with bloody margherita pizza, with tabasco sauce and smoked mozzarella from Pizza Pilgrims, Bloody Mary mince pies from food artist Juliet Sear and spiced vodka + tomato Bloody Mary marshmallows form the marshmallowist.
14th-15th Dec, 8am-10pm, find out more
---
About the author
Cari Thomas is a freelance writer and London explorer with a background in consumer publishing and copywriting.