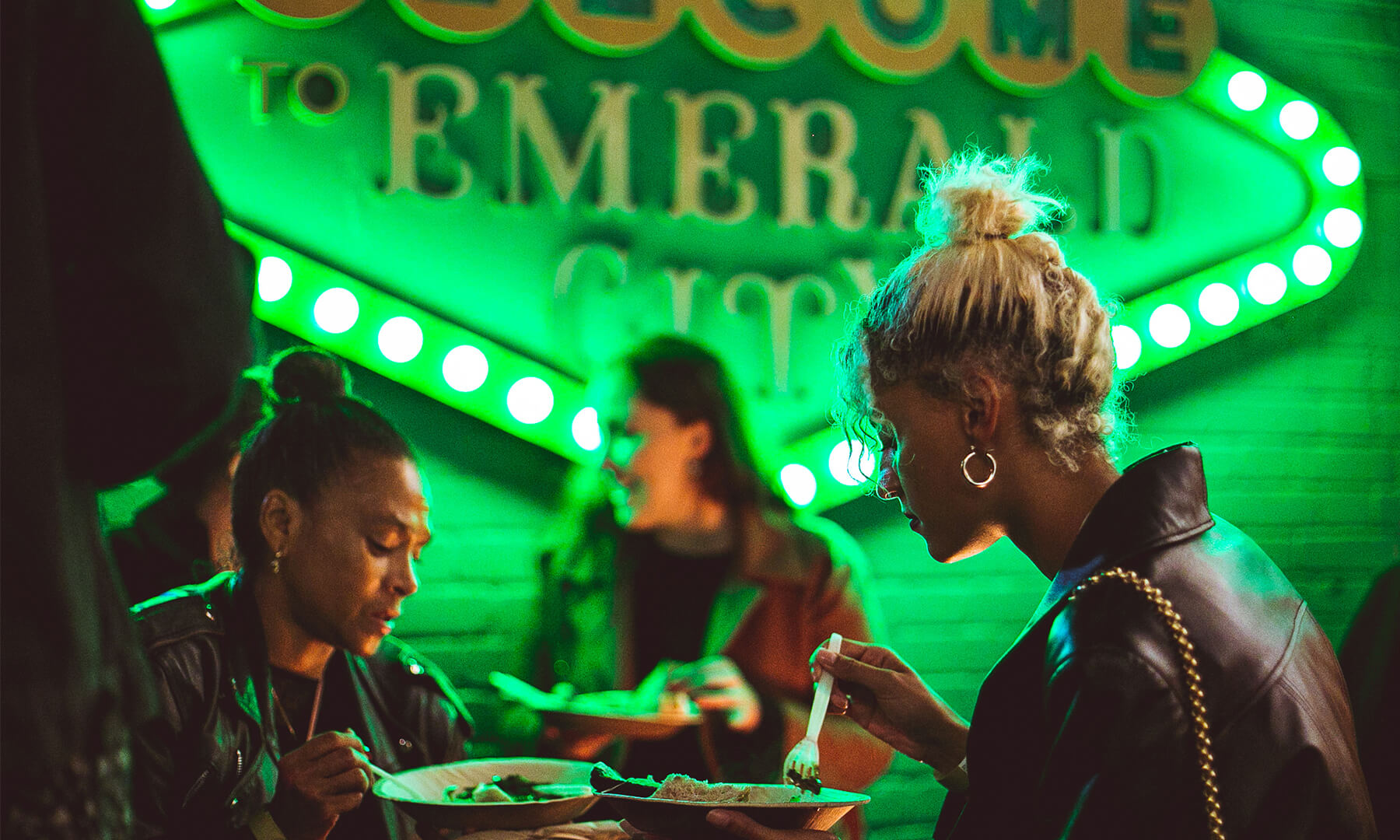 If you've ever wondered where you can watch some of the world's best jazz, eat the city's top ramen and try a London-flavoured crisp, Shoreditch has all the answers this autumn. Discover our selection of things to see and do…
EAT: Ramen at Tonkotsu Shoreditch
The debate has been raging for years – where can you get the best ramen in town? Cultists often put ramen chain Tonkotsu at the top of the list. Opening their first space in Soho in 2012, the ramen masters are now bringing their 11th joint to Shoreditch. Set in New Inn Yard just off Shoreditch High Street, the opening promises the classics: fresh noodles made in-house using mid-century machines from Tokyo; succulent 16-hour simmered broth; melt-in-your-mouth gyozas; and their infamous fried chicken kara-age. The restaurant, which will feature a light installation made from 1,600 recycled chopsticks, is also getting its own signature Shoreditch ramen: rich and creamy pork and lardo broth with thin-cut noodles, topped with roast pork belly, bamboo shoots, bean sprouts, spring onions, burnt garlic oil and an egg. Finish with their specially-brewed sake and, without a doubt, you'll be hailing it the best ramen in town too.
DRINK: Green Beer at the Queen of Hoxton
The Queen of Hoxton is the only place you can get a green beer in London this autumn. Didn't know you needed one? Its new Emerald City Rooftop pop-up says you do. Part Wizard of Oz, part Wicked, part wonder it's a bewitching and bejeweled den of magic. Follow the yellow brick road up the stairs and discover a giant wigwam leading through to an Emerald Garden with glittering green walls. You can toast marshmallows over the fire or head to the hidden bar for Kansas-style pot roasts and various green-tinged drinks – green beer, hot buttered rum and emerald bellinis. There are events running throughout the season that promise to add to the enchantment, from witchcraft workshops, to storytelling evenings, to a big green clothes swap. One thing's for sure – you're not in Kansas anymore.
LISTEN: EFG London Jazz Festival
A cosy London bar, jazz rhythms, sipping on an old fashioned – surely there's no better way to spend an autumn evening? Fortunately this dream is entirely within reach thanks to The EFG London Jazz Festival running from 15 - 24 November. With hundreds of gigs across the capital, it's London's biggest pan-city music festival showcasing jazz masters, boundary-pushing newcomers and innovative collaborations. Shoreditch has its fair share of gigs – there's a UK exclusive performance by Iggy Pop at The Barbican, as well as an audio-visual 'jazz poem' from Nik Bärtsch and Sophie Clements, and a string of jazz documentary screenings. Rich Mix has seven gigs with sounds from Egypt, Algeria, Turkey and beyond and Shoreditch Town Hall is putting on a jazz-fuelled show for 3 - 7 year olds. You might also want to check out the nearby Ninety One Living Room and The Pickle Factory.
DO: A Jack the Ripper Walk
Yes, it's touristy, but it's also a perfect autumn event – spooky, atmospheric and you can end things with a pint in an East End pub. There are numerous Jack the Ripper tours out there but Discovery Tours puts on one that is hard to beat. With expert guides who've written books about the case, they have the knowledge and the storytelling zeal to keep you biting your fingernails as you follow in the footsteps of one of the most infamous man hunts in the world. Taking on the role of Victorian detective, you'll visit real murder sites, assess evidence and uncover clues. It's all blood and terror and gaslight, but the true beauty of these tours is seeing the area you live in from a new perspective – getting off the main thoroughfares and exploring little-known cobbled alleyways and dimly-lit passages that will take you straight back to the 1800s.
LEARN: The Clash at the Museum of London
The Clash's seminal third album, London Calling, released in the winter of 1979 was an instant classic, hailed as the sound of a generation. In celebration of its blazing impact, the Museum of London are bringing us a free exhibition dedicated to the punk band. With 100 items from the band's archive on display it promises rarely seen memorabilia including Paul Simonon's broken bass guitar that features on the album cover, Joe Strummer's notebook containing lyrics from the song London Calling and Topper Headon's drumsticks. The exhibition will also look at how London influenced the band and the album's relevance today with its pummelling energy and close-to-the-bone lyrics about politics, climate change and nuclear fears.
PLAY: With Crisps at The Curtain
Gary Lineker move aside. The Curtain Hotel is running a special November event dedicated to one of the nation's favourite snacks: the crisp. As part of their Flavour of the Month series, Odette Toilette and flavourist Steve Pearce of Omega Ingredients will be taking you on a journey into the world of the humble fried potato snack. From the tang of cheese and onion Walkers to the dissolving enigma of Skips to the sophistication of a Kettle chips dinner party bowl, you'll be breaking down the nation's favourite crisps into their individual ingredients and discovering the most moreish flavours. You'll also explore crisp trends from around the world and get to sample a specially-commissioned London flavour crisp, which promises to conjure up brick dust and dirt. Tickets are £18 and include a crisp-dust Martini, plus crisp tasting of course.
---
About the author
Cari Thomas is a freelance writer and London explorer with a background in consumer publishing and copywriting.